Steph Wagner
November 13, 2019
Recipes Ready for New Collections Feature!
Replay video of the live collections release:
Video Transcript (with screen shots)
Recipes are being moved to a new plugin to be available for collections.
When a recipe is available for collections, it will look like this:
Once you click "add to collections" the text will then change to "go to collections." Click this when you are ready to edit/create collections or continue searching recipes adding them as you go.
Below is an image of the collections page. Mine has been edited. Click the edit button to change the name and/or add new collections.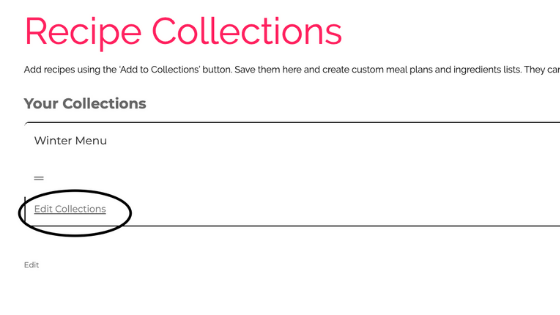 When you are done editing the name or adding new collections, click "stop editing" and then click the name of the collection to view it.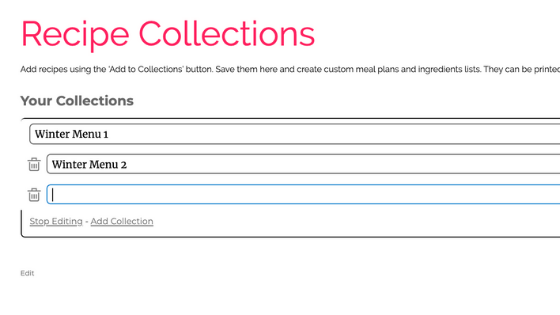 Once inside the collection, you may want to change the name of the columns and/or groups. Click this button.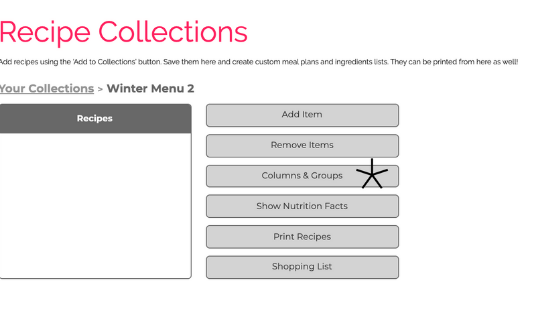 After clicking columns and groups, you'll click edit columns.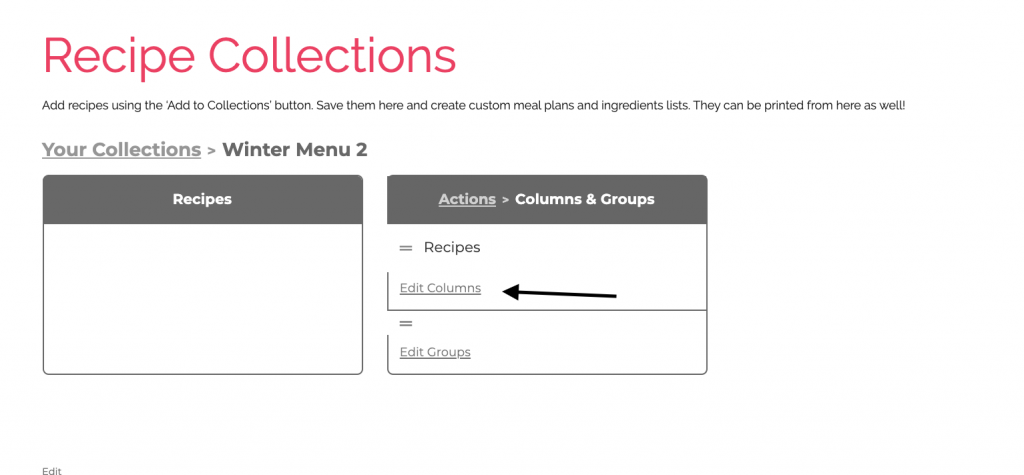 You can customize the name of the column to anything you'd like. Personally, I change it to the days of the week and add a column for each day I want to plan for.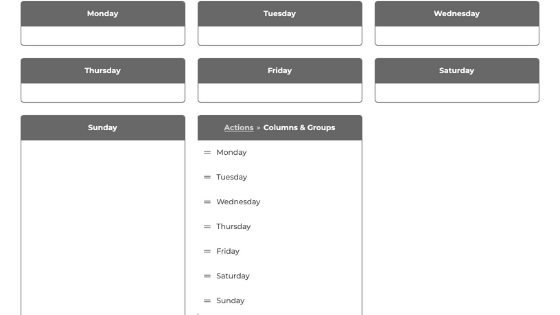 Next, I like to add groups as the meal of the day. Sometimes I only plan dinners so I would type "dinner" but if I would like to make a full meal plan, I add all three meals. Click "stop editing" when you're done.
Once your groups and columns are setup, click Actions at the top of the box to get back to the main menu of the collections actions.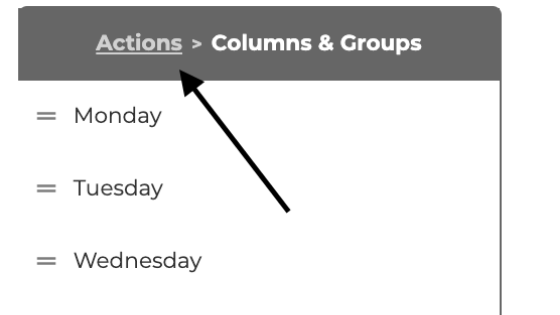 Click "Add Item" to start dragging and dropping recipes into your collections. You should now see the recipe that you click "add to collections."
If you'd like to search other recipes, click the dropdown menu that says "add from collection" and click "search recipes." If you don't know what to search, just click the a single letter and see what comes up.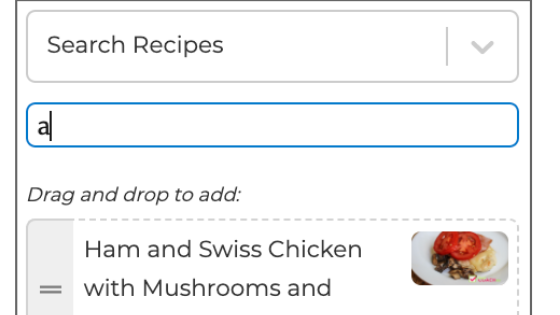 Click the two lines to drag the recipe and drop into the day and meal you would like.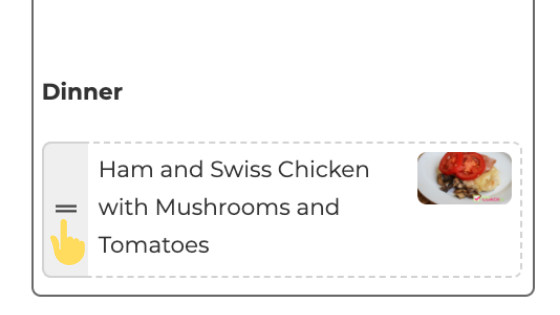 If you like to see the nutrition information adding up in your meal plan, you can choose "show nutrition facts" and see how the day looks!
Click Actions at the top of the box once again. Then you will select "Show Nutrition Facts"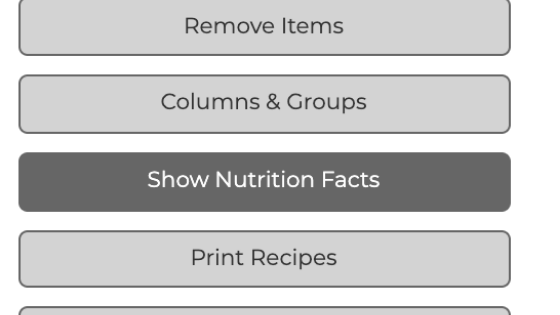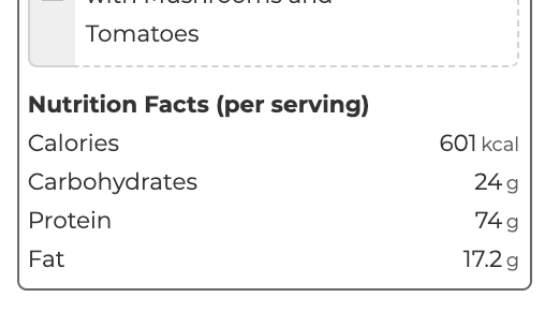 More fun options, add your own recipes and notes
One thing I love about this new feature is that you are not limited to only my recipes. I will continue to move recipes into this new format until all 500+ recipes are available BUT if you find a recipe on another website or your own family recipe that you want to use, you can type it in to your meal plan.
Click "add item" then select the first drop down box and you will see "add custom recipe."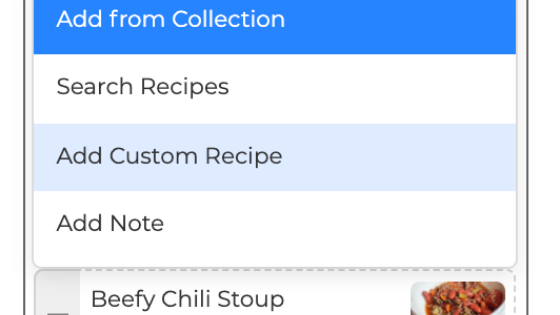 You can then name the recipe, add ingredients (which will be added to the grocery list) and add nutrition information if you'd like. You can use Baritastic or MyFitnessPal to get the nutrition information if you need it.
Then you'll drag and drop the recipe just like the others.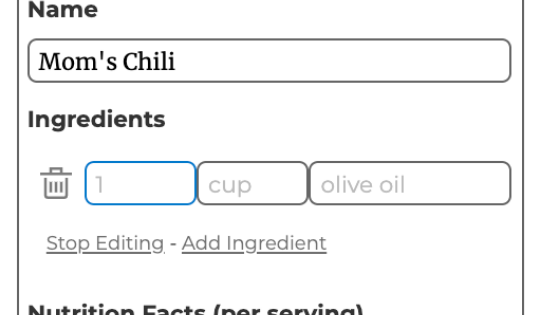 Add a note if you want to say something like "out to eat" or something else that you want to add. This collection is only for you so you can make it what you need! Drag and drop the note where you want it.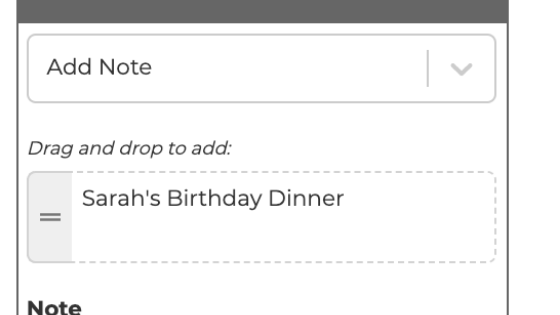 Create shopping lists, print plans and recipes as needed
The final step after planning your meals is the grocery list!
Go back to actions and select "shopping list." One little feature I really like is that you can click the circle next to each item on the list and it crosses off. I planned my meals then made my grocery list and placed a grocery delivery order on my phone. Crossing off each item as I added it to my cart.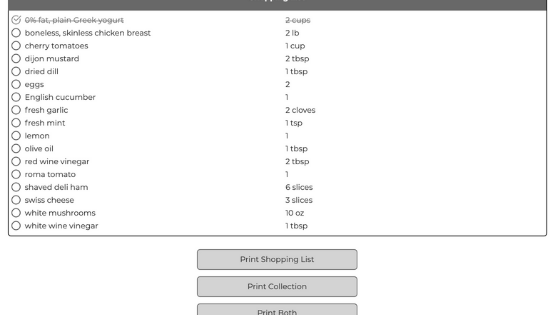 Then you can choose to print the list or print the plan as you'd like. I printed my plan so I could put it on my fridge and add notes as needed.
Below is a running list (with links) to recipes ready to be added to your collections
Instant Pot Chicken Enchilada Stoup
Instant Pot Pork Tenderloin with Apples and Rosemary
Chicken Sausage and Pineapple Skewers
Turkey Sausage and Veggies Foil Pack
Mexican Stuffed Peppers with Cauliflower Rice
Hot Ham and Swiss Chicken Breasts