Back to School Special!
$25 to BariBox, with purchase of 12 month membership*
See Details
*new customers only
Sugar Free Lemonade Tea
For post-op Bariatric surgery patients, one of the biggest struggles of all is getting in hydrating fluids. Can I get an Amen?!?
Whether it's taste changes after Gastric Sleeve or Bypass surgery or the fact that drinking water makes you uncomfortably full (or you forget, or you've never been a water drinker….etc) it's always helpful to have new ideas and options in the house to get yourself to DRINK UP!
One of my favorite products lately has been Liptons® cold brew decaf iced tea. I'm typically not someone who struggles to get in water, but pregnancy has made it much more of a challenge. (Yeah, yeah, yeah…I know you want to say "How do you like it Steph!??") I've been able to get my water in between iced tea and plain water as I interchange them often. The instant cold brew is AWESOME because it takes 3 minutes to have a pitcher ready in my refrigerator. I'm much more likely to succeed with this stuff in my house!
When I was hosting some friends for a fun summer evening, I wanted to change it up a bit and make a Sugar-Free Arnold Palmer. Yummy!
Super simple to put together:
1) Brew the decaf cold brew on one pitcher
2) Make another pitcher of Crystal Light® Lemonade
3) Mix together!
You could also use the single packs of Crystal Light® and make a single bottle or glass of lemonade if you didn't want to make a whole pitcher.
Pour over ice and enjoy a decaf, no sugar water equivalent!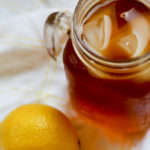 Sugar Free Lemonade Tea
Pin Recipe
Print Recipe
Ingredients
1

bag

cold brew decaf tea

1

quart

cold water

2

cups

sugar free or low calorie lemonade

pre-prepared or water flavoring added to water

2

cups

ice cubes

lemon wedge for serving

optional
Instructions
Brew cold brew tea by adding tea bag to cold water for 5 minutes.

Remove tea bag and add low calorie lemonade to the container. Pour over ice and serve with a lemon wedge.
Nutrition
Serving:
1
glass
|
Calories:
1
kcal
|
Sodium:
18
mg
|
Potassium:
1
mg
|
Calcium:
11
mg
Nutrition Facts
Sugar Free Lemonade Tea
Amount Per Serving (1 glass)
Calories 1
% Daily Value*
Sodium 18mg1%
Potassium 1mg0%
Calcium 11mg1%
* Percent Daily Values are based on a 2000 calorie diet.