Steph Wagner
June 21, 2017
Pumpkin Whip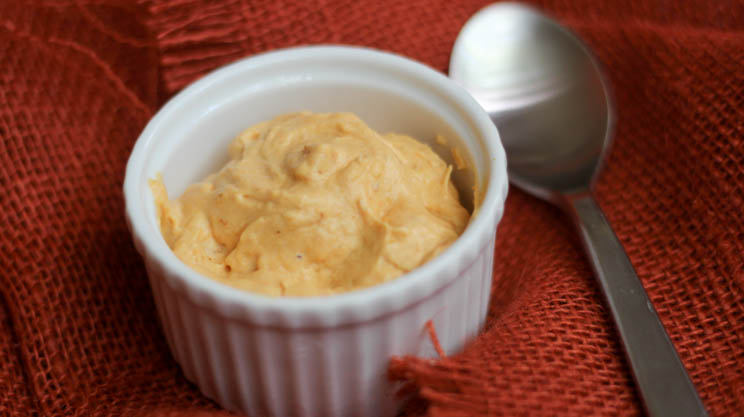 Bariatric Pumpkin Sweet Treat
Needing a new Bariatric Friendly sweet treat?! This pumpkin whip is perfect for the Fall and holidays when you want a light treat but want to stay on track.
Keeping healthy alternatives in your house when the sweet tooth kicks in is essential to keep on track with your post-op goals. Of course, you need to be careful of certain ingredients you know that your bypass or sleeve don't agree with!
I know we often think of PUMPKIN in the fall…so feel free to save this one for later or enjoy it year round and I won't tell anyone! It is light and fluffy, hence the name whip, and reminds me of the flavors of pumpkin cheesecake.
As with any sweet treat after surgery – PORTION is very important. One serving of this whip is just 1/4 cup but I believe you'll find it's plenty! You can also increase the protein content but adding a tablespoon of unflavored protein powder (such as Unjury®)
You might also like this simple zero calorie Pumpkin Pie Spice Coffee!
Of course, if you feel your sweet and snacky cravings have just plain gotten out of hand, I recommend looking into some of my video courses for getting back on track or even controlling your hunger. Carbs are a slippery slope! Even "healthier" options like this need to be used with great caution. You can also check out my course on reading nutrition labels after weight-loss surgery for a better idea of how to make good choices on treats.
Protein shakes can also be a great way to fix your sweet tooth. Perhaps you are tired of them!? If that's the case, below are other bariatric sweet treats you might try:
Banana Muffin in a Mug (members recipe)
Add all ingredients except the whipped topping to to a medium mixing bowl.

Using a rubber spatula, stir ingredients for a few minutes until well incorporated.

Fold in whipped topping. Refrigerate until serving. Scoop 1/4 cup pumpkin whip into small ramekin and enjoy.
This recipe makes 14 servings, each serving is 1/4 cup. One serving provides an estimated 1 gram protein, 12 grams carbohydrate and 2 grams fat.*Add unflavored protein powder to increase protein content!