Instant Pot Taco Chicken
Bariatric Friendly Instant Pot Recipes – Taco Chicken
Check out my Instant Pot eBook for Bariatric Surgery! This recipe for Instant Pot Taco Chicken is one of many recipes in this ebook. Get a copy included in membership benefits or can be purchased individually. Click here for info. 
The Instant Pot came to popularity quickly, or so it felt like! I remember being hesitant to have another kitchen appliance and one that was so large and felt confusing to operate.
Now that I've been using my Instant Pot for a couple years, I do appreciate how quickly it can make boiled eggs and meats that keep moisture. For quick chicken breast dinners I like this taco chicken or the Instant Pot Pesto Chicken shown below (members recipe).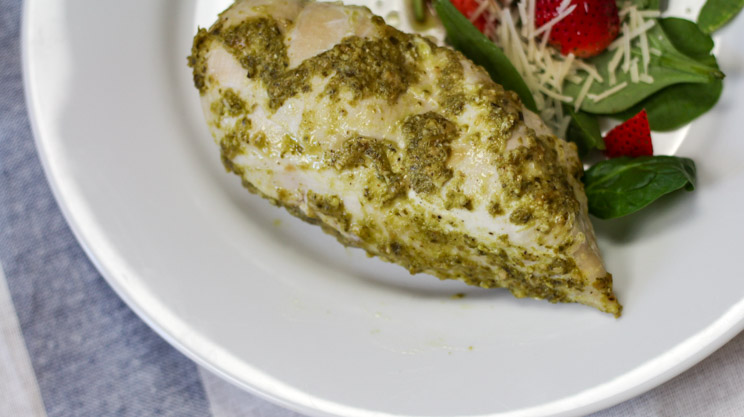 The key is to have at least a cup of liquid in your Instant Pot. I keep chicken broth on hand at all times in the event I want to throw together a quick Instant Pot dinner. While I prefer grilled chicken, if it's raining or snowing I can quickly change my plans to the pressure cooker.
Bariatric Patients keeping moisture in meats
Even in the Instant Pot chicken can feel really dry for post-op patients. For sure keep the liquid content high but also watch the cook times and the natural release time.
It can be easy to forget to go back to the post after the 10 minutes of naturally releasing because it does not beep, the time just keeps logging. You may need to set a timer on your watch, phone or microwave for ten minutes after the pressure cook time is finished.
Also be mindful that your bites are small, about the size of a black bean. Taking too large of bites will make the meat feel heavy hitting your stomach. Patients often describe chicken as feeling too dry when it's more related to the size of the bite.
Read the blog keeping moisture in meats for more information!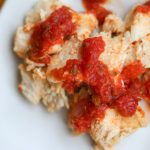 Instant Pot Taco Chicken
Pin Recipe
Print Recipe
Ingredients
1

lb

boneless, skinless chicken breast

1

cup

chicken broth

1/4

tsp

salt

1/4

tsp

pepper

1

cup

salsa of choice
Instructions
Pour chicken broth into bottom of pressure cooker. Season both sides of chicken breast with salt and pepper.

Add chicken to bottom of the pot and pour half of salsa over top (half cup). Close the valve to the sealed position. Select high pressure for 4 minutes if using fresh chicken, 10 minutes if using frozen chicken. *For two pounds of chicken select 5 minutes.

Allow to naturally release for 10 minutes. Then switch valve to open, being cautious to allow steam out if need. Open the lid and check temperature of chicken has reach 160F.

Remove from pot. Shred and top with remaining half cup of salsa. Add other toppings as desired.
Notes
This recipe makes 4 servings. Each serving provides an estimated 23 grams protein, 4 gram carbohydrate and 3 grams fat.