Quick Bariatric Dinners – Spring Edition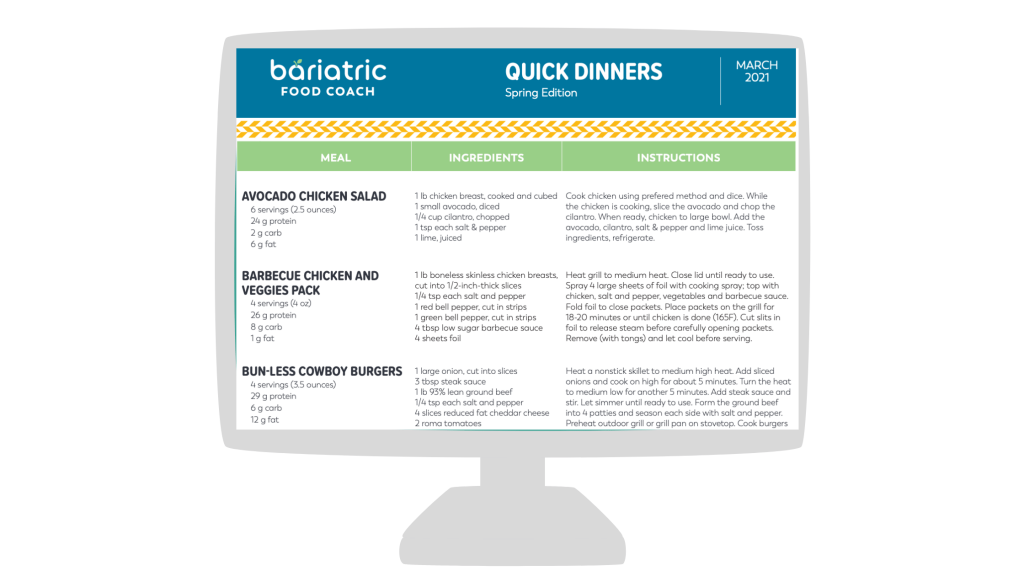 New Members Resource posted for  easy bariatric recipes to make in the Spring 🌸
Quick Dinners – Spring Edition
Last Summer I released a quick dinners handout after my dishwasher broke and we were limiting dishes as much as possible. It was so popular I made one for Winter and now here we are with the Quick Bariatric Dinners Spring Edition!
My dishwasher may be working but other interruptions (that we ALL have) keep the need for fast meals a reality. This time around recipes are more focused on the Spring months. These months call for firing up the grill after a long winter or having a fresh salad after the chilis and stews have grown tiresome.
Members shared in our last live call that they too like to load up the grill with extra chicken and burgers. I've always said the grill was the greatest batch cooking secret weapon!
The recipes featured on this quick guide include:
Avocado Chicken Salad
Barbecue Chicken and Veggies Pack
Bun-less Cowboy Burgers
Chicken Mozzarella Burgers
Chicken with Cheesy Veggies Foil Pack
Fajita Turkey Burger
Chicken Pesto Skewers
Easy BBQ Chicken Legs
Pesto Shrimp and Squash
California Cobb Salad
Caesars Burger
Basil and Garlic Grilled Chicken
The full guide is available to members of Bariatric Food Coach and includes a total of 12 quick dinners.
All recipes are included in the recipe library which is now over 500 recipes!
If you are already a member, click this link to the locked members page to get your PDF!
Members, you can find this page when are logged into your account and click or tap My Account then Member Resources. All the PDF guides are listed on this page including the Quick Dinner Guides by Season!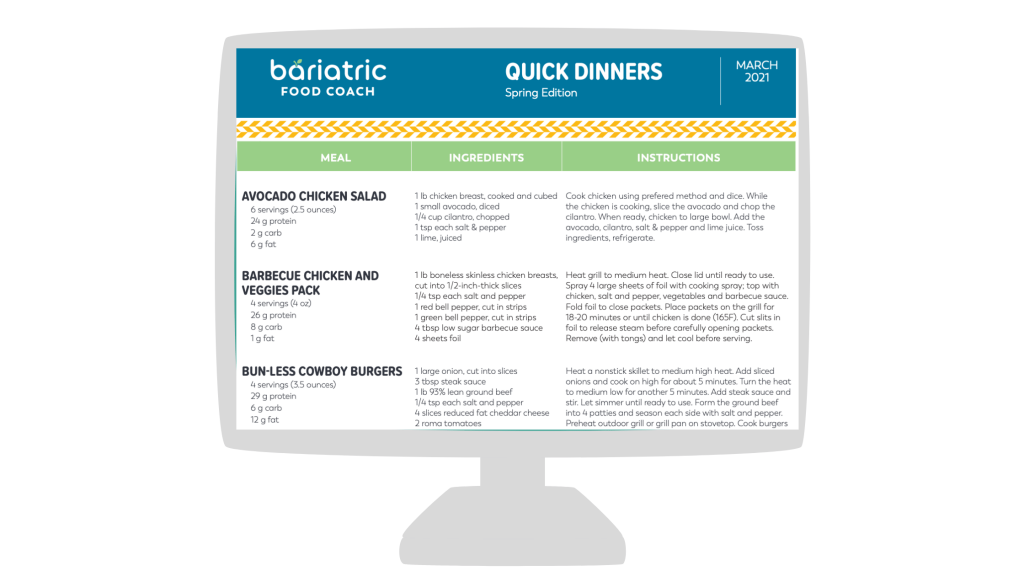 Not ready to become a member but interested in joining the email list? Click here!