Quick Bariatric Dinners – Winter Edition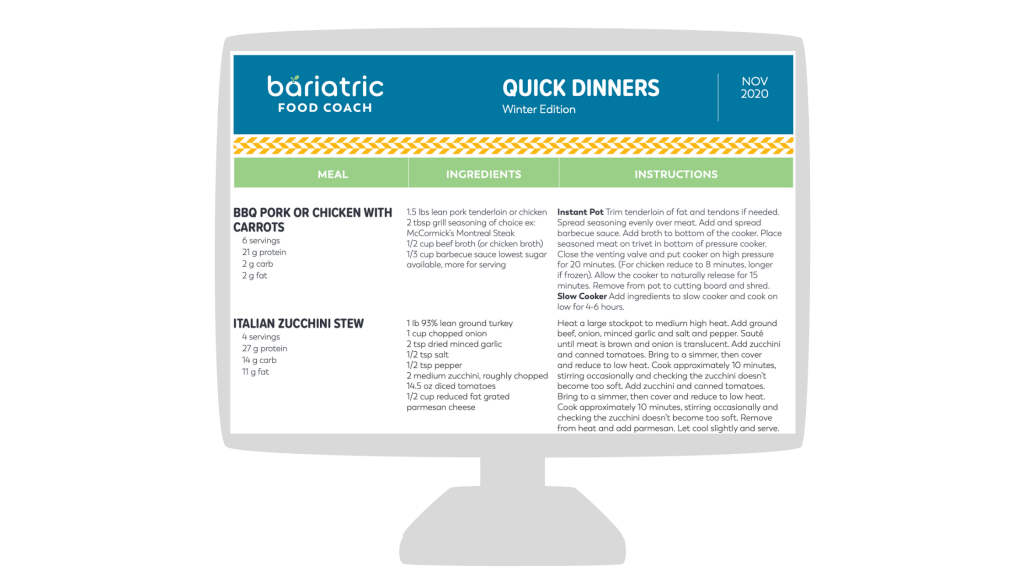 New Members Resource posted for  easy bariatric recipes to make in the Winter ❆
Quick Dinners – Winter Edition
This past Summer I released a quick dinners handout after my dishwasher broke and we were limiting dishes as much as possible. The time has now come for a Quick Bariatric Dinners Winter edition!
My dishwasher may be working but other interruptions (that we ALL have) keep the need for fast meals a reality. This time around recipes are more focused on the Winter season. These months call for more warm and hearty meals or slow cooker meals instead of grills or no cook salads.
One of my favorites is a simple can of vegetable soup with ground beef or turkey. It's so fast but very hearty with the ground beef. The soup I prefer to use is Amy's® Organic Chunky Vegetable which does include peas and corn. I typically avoid those starchy vegetables but I appreciate that it doesn't' include potatoes like all the other vegetable soups.
The recipes featured on this quick guide include:
Honey Mustard BBQ Meatballs
Marinara Meat Sauce and Green Beans
Taco Chili
Quick Turkey and Vegetable Stoup
Sloppy Joe Bowl
Pork and Banana Peppers
BBQ Pork or Chicken with Carrots
Lemon Rosemary Chicken Thighs
Crockpot® Classic Meatloaf
Almond Crusted Pork Chops
The full guide is available to members of Bariatric Food Coach and includes a total of 10 quick dinners.
All recipes are included in the recipe library which is now over 500 recipes!
If you are already a member, click this link to the locked members page to get your PDF!
Members, you can find this page when are logged into your account and click or tap My Account then Member Resources. All the PDF guides are listed on this page including the Quick Dinner Guides by Season!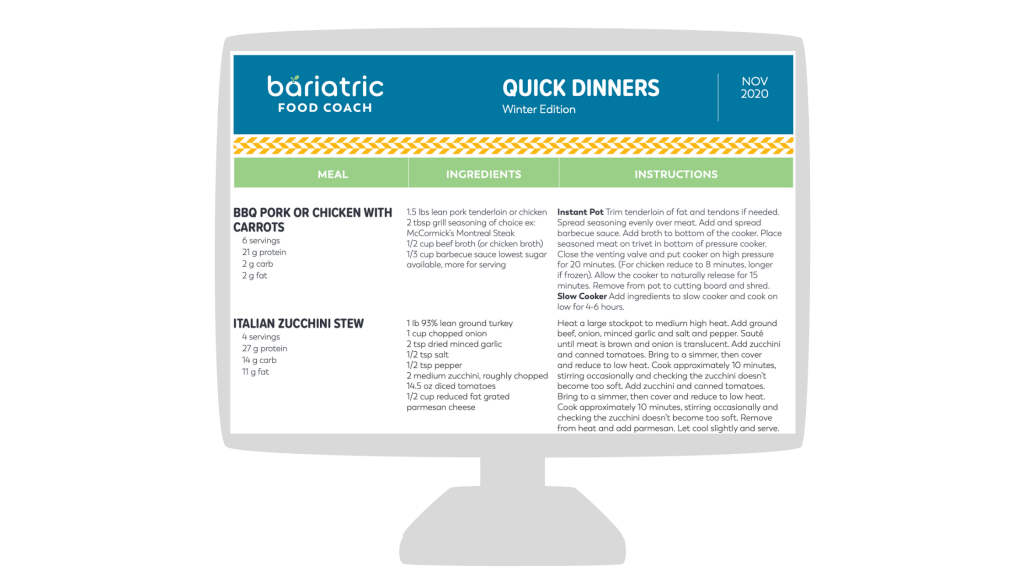 Not ready to become a member but interested in joining the email list? Click here!