BariBox – Bariatric Meal Delivery
Jana Wolff, a bariatric dietitian, started a meal delivery service for post-ops
With so many meal kit companies on the market, I have set out to find the best fits for post-op patients.
One of my Bariatric Food Coach members asked about BariBox. I wasn't familiar. I set out to find out more and because fast friends with the creator, Jana Wolff.
Jana is a Bariatric Dietitian in the largest bariatric surgery center in Maryland. She saw a need for her patients to have delicious, ready-made, pre-portioned meals and she made it happen. Now she can ship meals all over the United States!
Watch the 12 minute video for more about how the meals work, how to order, how to personalize the meals for you and so on. Plus Jana says you can email her anytime with questions!
(Note: this is not a paid advertisement and my words and endorsements are very much my own!)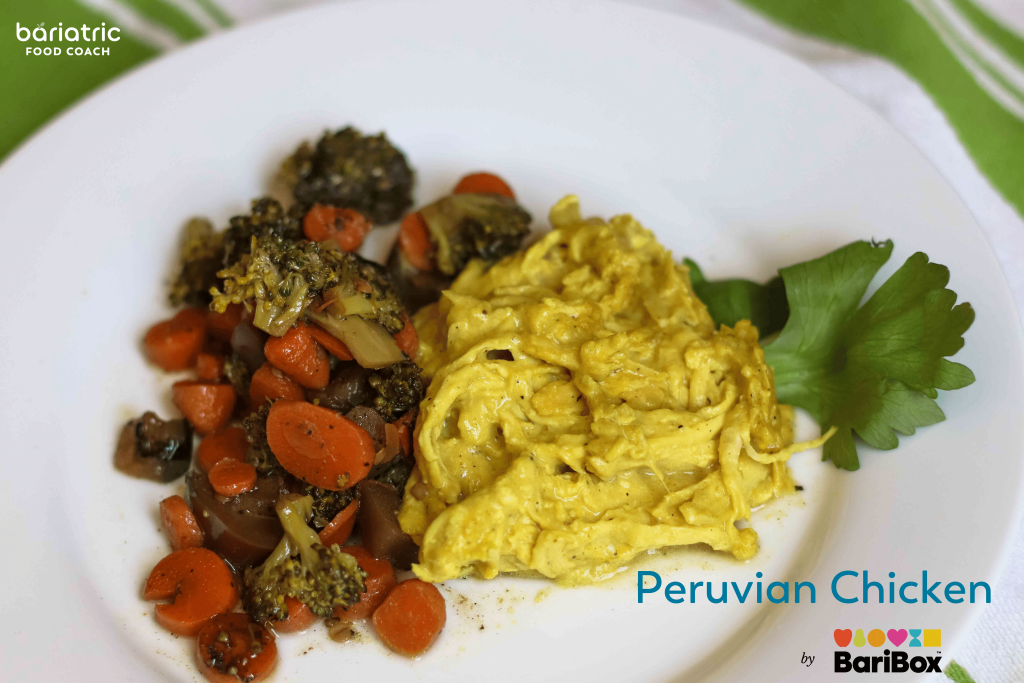 Who is BariBox for?
BariBox has a few different offerings. They are all created with a bariatric surgery patient in mind which means they are rich in protein and mindful in fat and carbohydrates.
Pre-op patients have meals available to them with a larger portion size than a post-op. There is also a "liver shrinkage" diet which is the pre-op diet many surgeons have you on to increase the safety of surgery.
For post-op patients the meals are portioned for a smaller pouch and focus on protein and vegetables. Jana tells me most all customers say the meal is very filling for them and some have leftovers.
Subscription is available if you'd like to sign up for recurring meal delivery or you can do a single order and see if it is a good fit!
How to order BariBox and make meal requests
Jana and the Fitnesschef kitchen work together to create an exciting menu every two weeks. She posts the menu to her website and Instagram page. To order, visit www.baribox.org and click/tap Shop in the top menu.
From there you can select pre-op or post-op as well as add ons like dessert!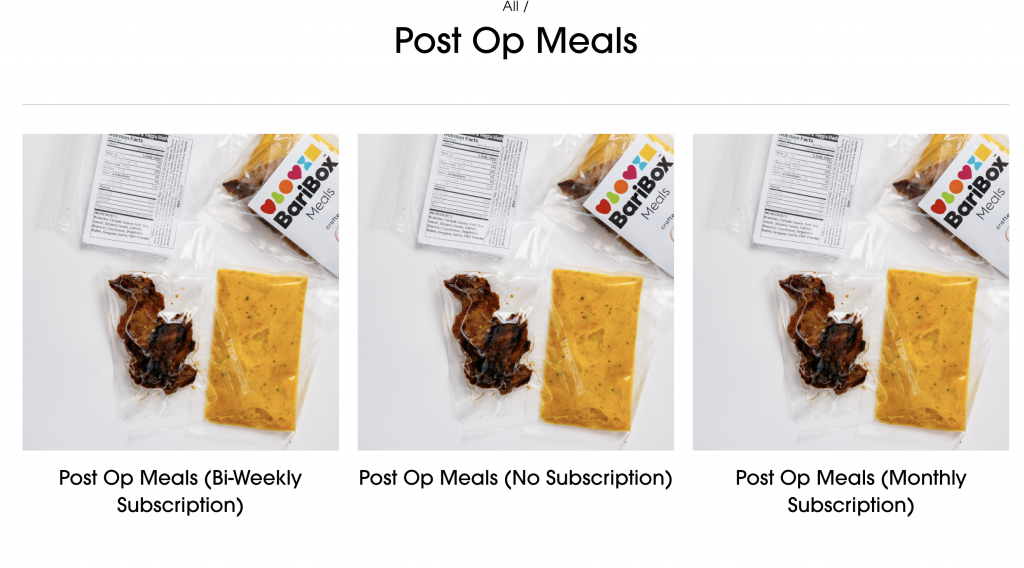 Larger meal kit companies have the ability to allow you to select certain meals on the website. Instead, you will select how many meals you want for a two week period and leave notes in the comments if you have preferences.
If there is something on the menu that you do not like, ask them to leave it out. If there is something you liked on the past menu, make a note and if they have it stocked they will include it in your shipment.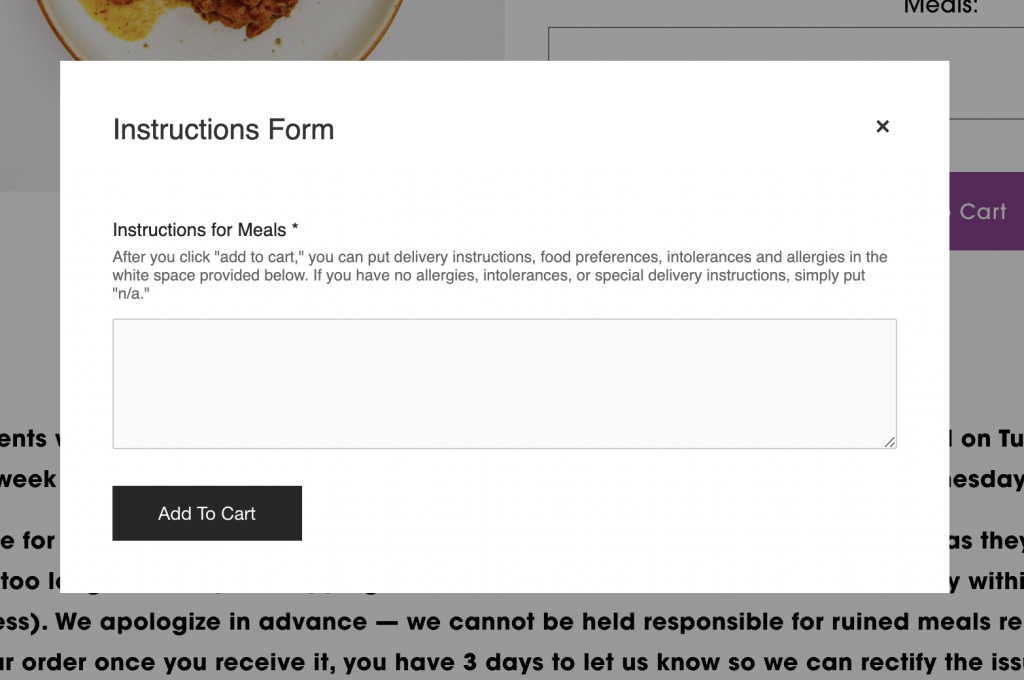 By the way, I have tried the Peruvian Chicken, Spaghetti Squash Lasagna, Smoked Tenderloin and Slaw, Crabby Patties, Cilantro Chicken, and the Bunless Chicken Cheesesteak and everything has been delicious!
How they arrive and how to reheat the meals
Unless you are in Maryland you will be like me and pay for the two day shipping. Jana will let you know what day your package is expected to arrive. She recommends leaving a cooler outside if you are able unless you know you will be home.
The box arrived with a freezer bag filled with the meals and ice packs and wrapped around an insulated bubble wrap. Mine were partially frozen when they came and I moved them straight to the freezer.
I moved a couple meals to the refrigerator to have some thawed options for lunches. A couple of the meals had cold items such as slaw and those are noted not to heat them.
The meals have two options for reheating. One is to boil water and add the sealed meal for a couple minutes, the cut open and serve on a plate. The other is to cut a slit in the bag and microwave.
I used both methods and they were both good! I prefer the hot water because the meals stay very moist and heated throughout. My microwave is also not the best so there is that :)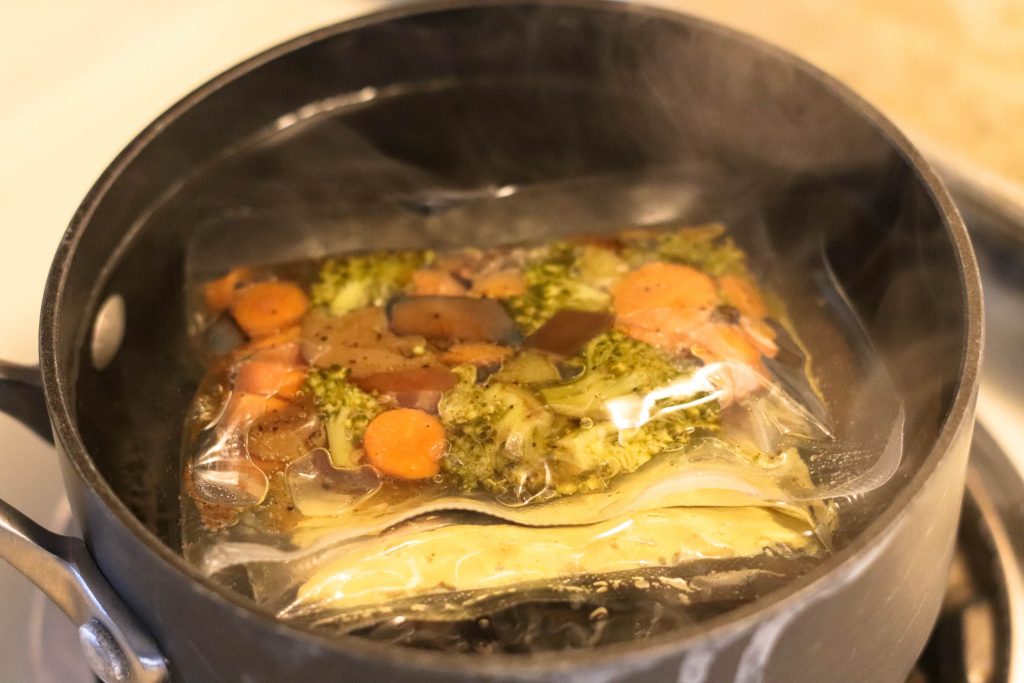 The full nutrition panel is included on the meals so you can add them to your food journal.
Find out more at BariBox.org
Ready to play around with the website and find out more? Click here for Jana's latest menu and ordering options!
Feel free to reach out to Jana or myself with any questions. I'm so excited about this great resource if it can fit your budget and your needs!