You're tired of second guessing your food choices. Am I eating too much? Is my weight loss enough? Is it too late?
Imagine being able to feel clear on food, hunger and weight loss – in just 4 weeks.
You'd have peace at meal times so you can go focus on other things in your busy life.
You've spent hours Googling more than you wanted to know about bariatric surgery — when all you *really* want is a clear understanding of what to DO with it.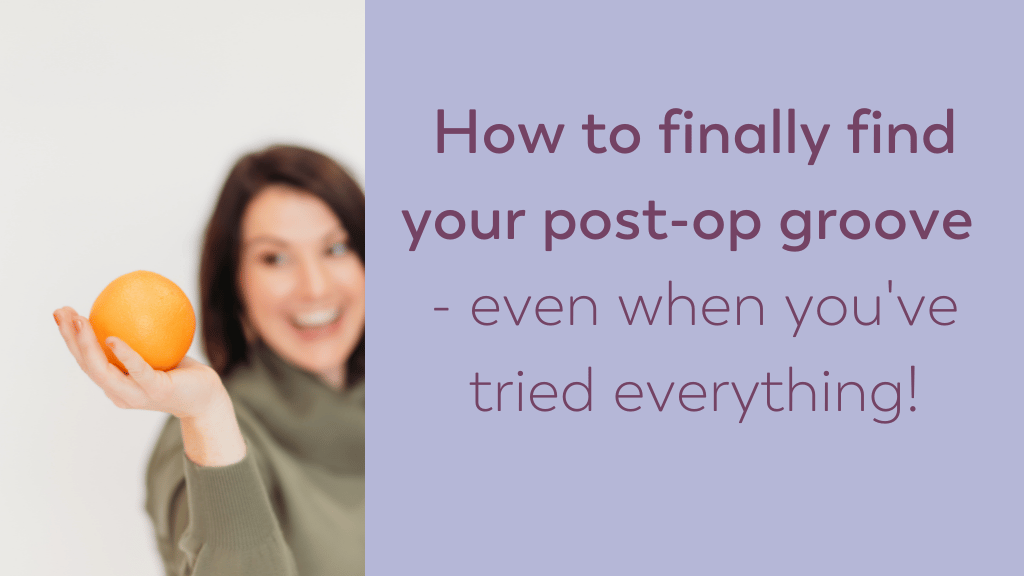 Have you ever wondered why you start the day off so well – water, protein, maybe even a long walk…but can't stop snacking at night?
You LOVE a good success story, but stay up at night worrying you won't be one.
Plus you're already busy with everything else on your plate—if you have to figure out dinner at the last minute AGAIN you may have to scream.
It's time to get back in the driver's seat and feel in control of your hunger, your food choices and your body.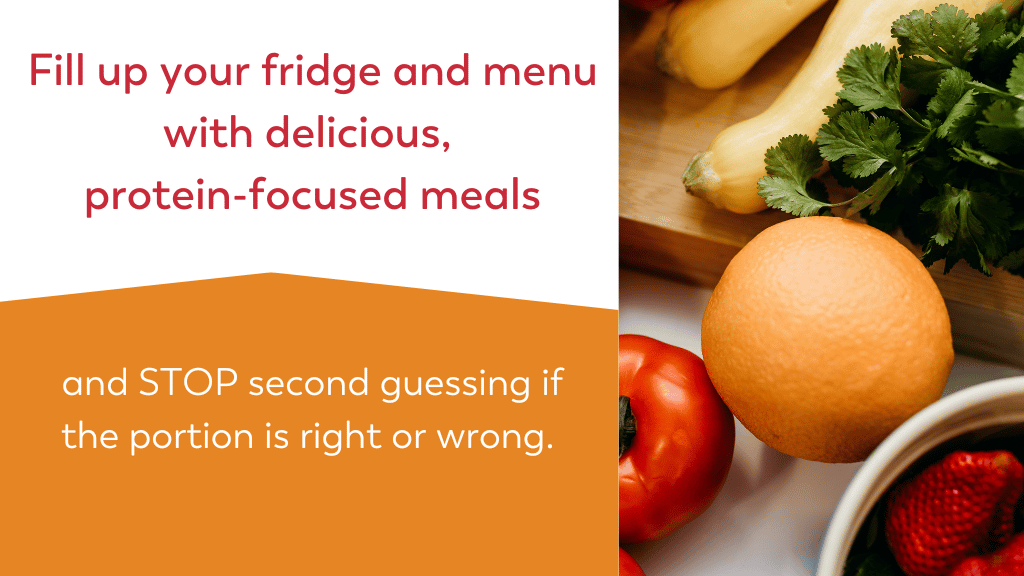 Because patients who know what the "basics" are – and can make it work in their everyday life are losing and maintaining over 80% of their excess body weight.
Meal planning, movement, water, sleep….and consistency.
And that's why I started this website in 2012.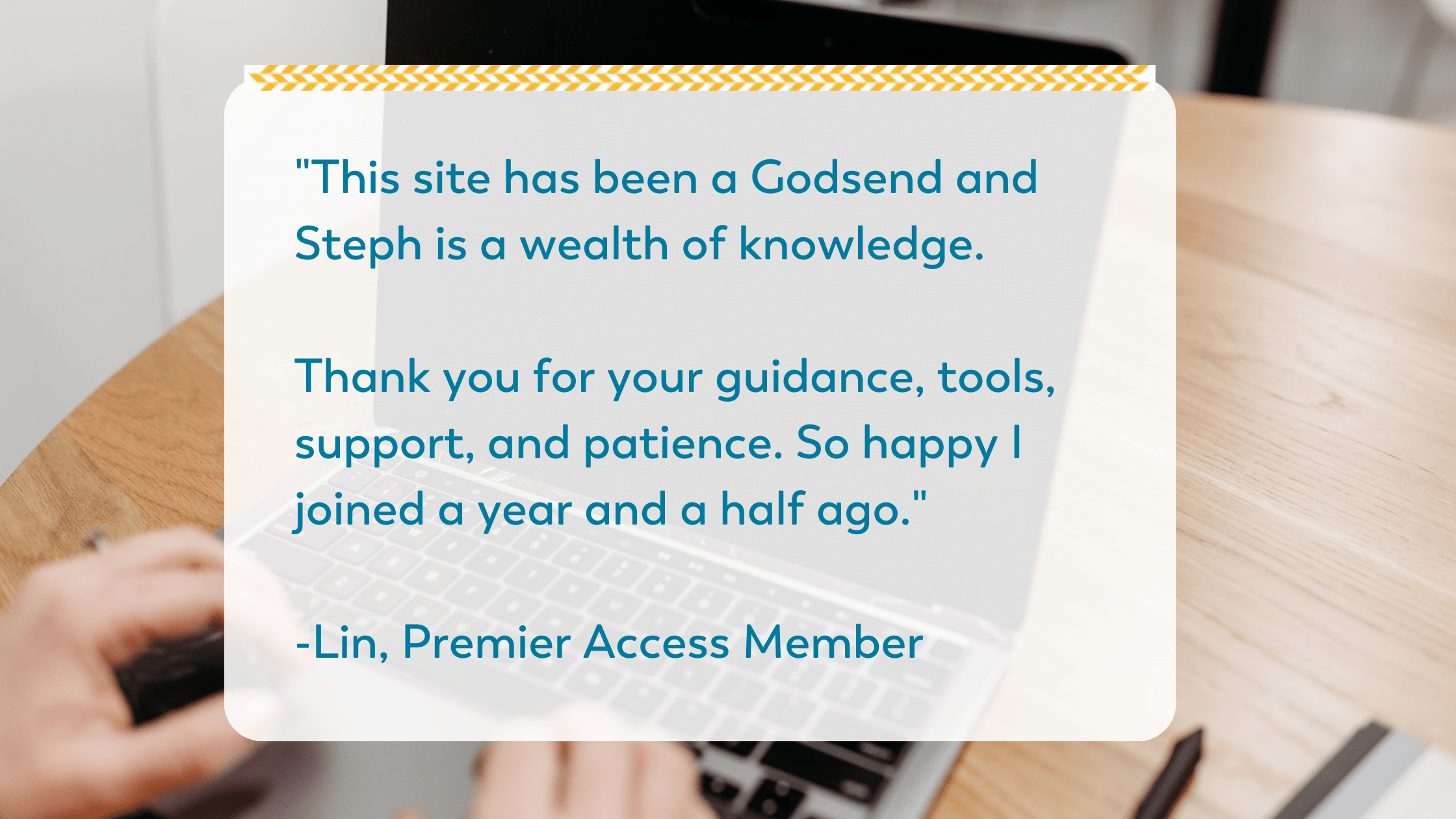 Introducing Premier Access Membership with Bariatric Food Coach
the hands down most comprehensive bariatric nutrition membership that keeps you on track through the ebbs and flows of post-op life.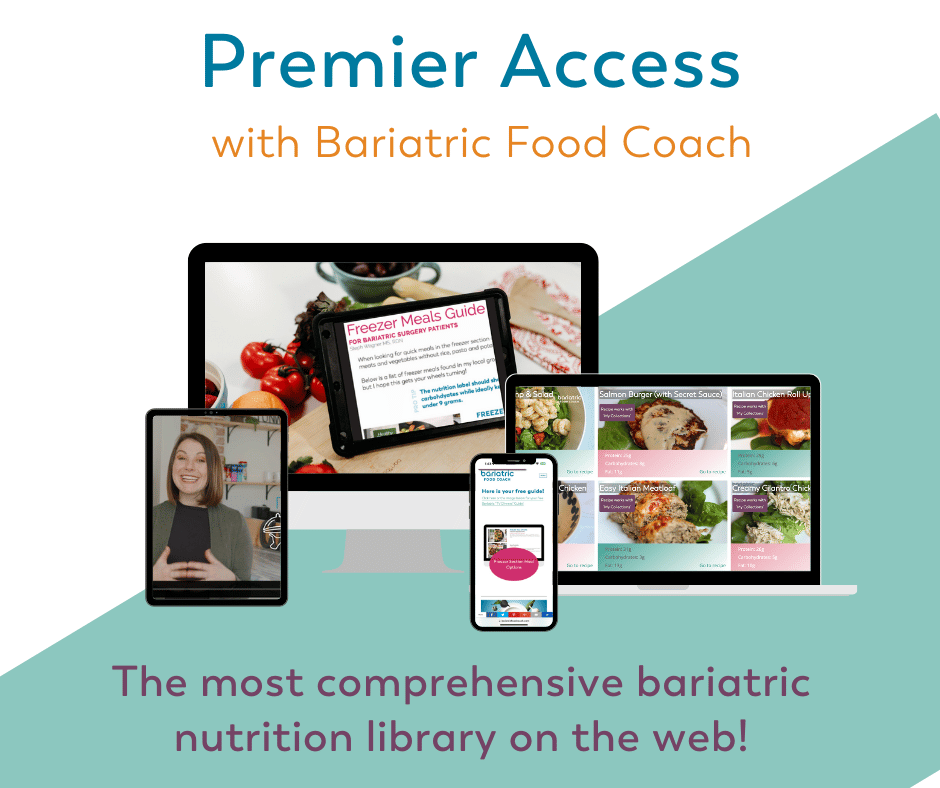 It's simpler than you think – here's what's inside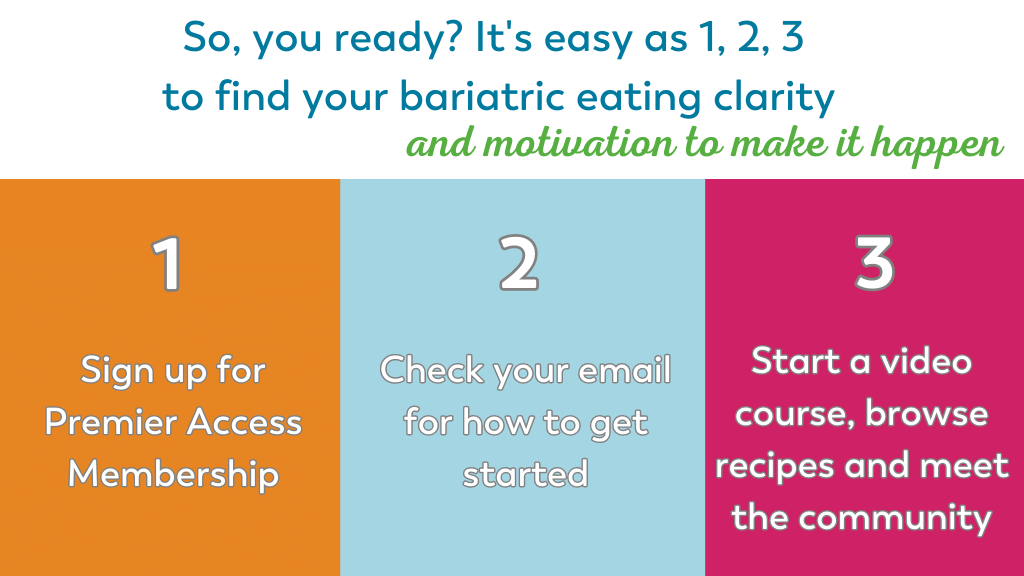 And did I mention it's HSA/FSA eligible??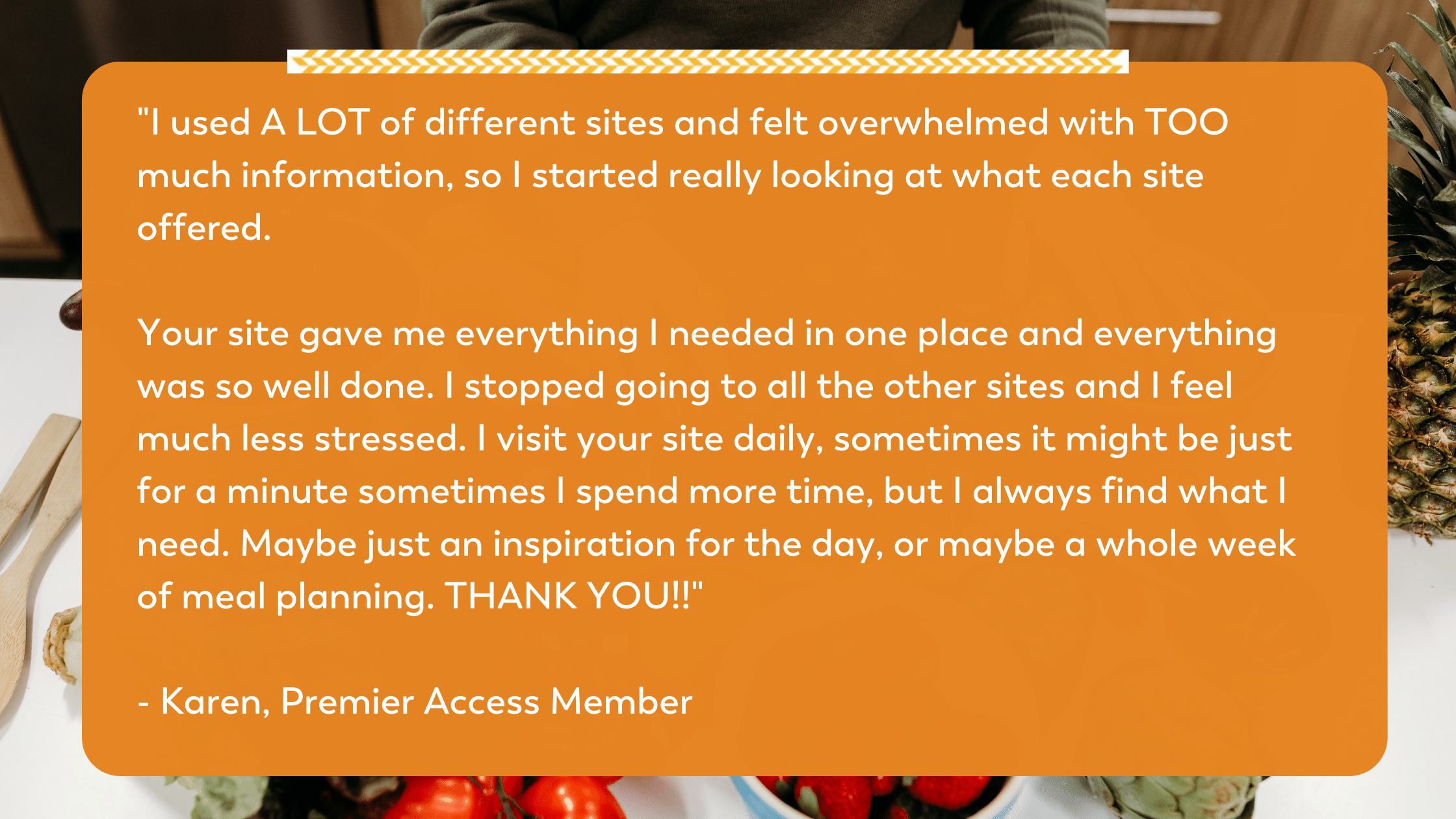 Treat yourself to a library of post-op recipes and menus to save you time finding what to eat after surgery.
Sure, you could start a new diet plan again.
But you're tired of starting something you know won't work long-term.
Sure, you could Google bariatric recipes and how much protein you should be eating.
But you'll get mixed answers and spend time you don't really have.
OR, you could give up altogether and do nothing.
But that's not your style.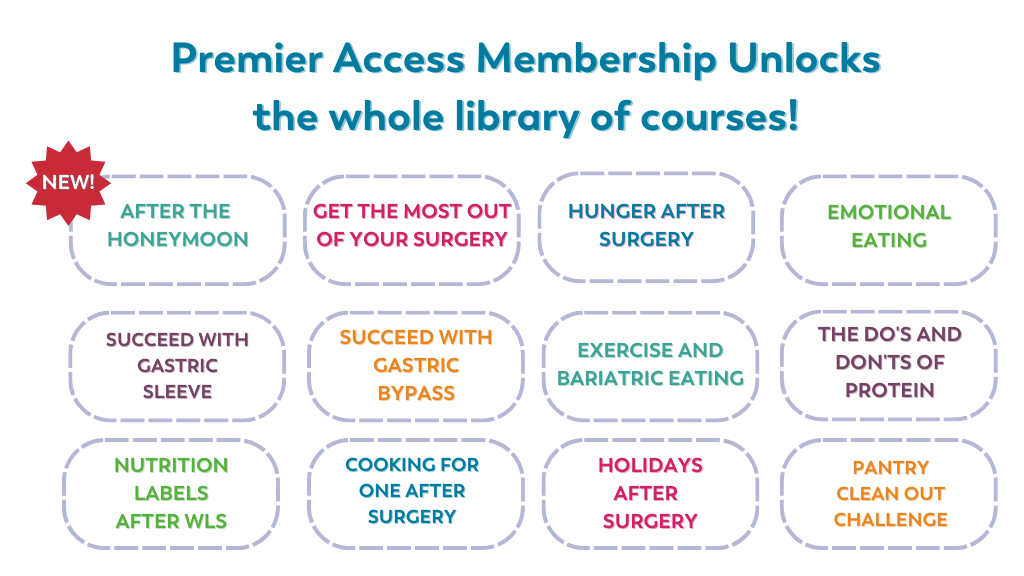 Okay, ACTUALLY. It's not just the courses.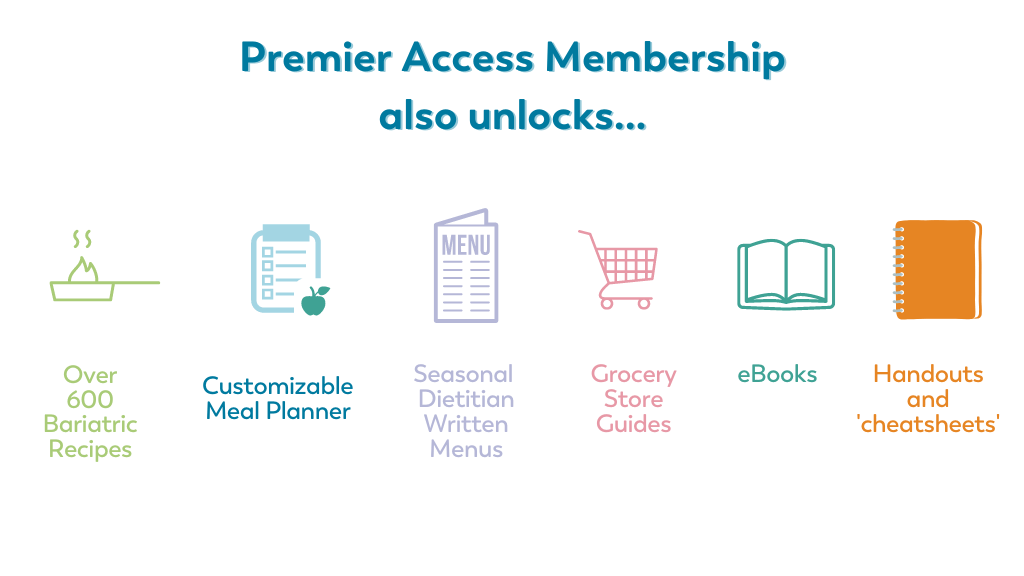 The overall value of Premier Access education, resources and community is thousands of dollars. 
My colleagues are shocked that I offer it all in one membership library. I could sell each course or resource individually.
I believe it all needs to work together.


Your investment for Premier Access Membership?
Private coaching groups with bariatric dietitians go for thousands of dollars.
Bariatric memberships sites range from $40-100 per month.
Courses from dietitians or therapists go for well over $500.
You can get started for just $29

Here are the steps to get started:
>>>Join Premier Access Membership 
>>>You'll have access right away – but check your email for more tips on getting started
We've hosted over 6,500 post-op patients inside Premier Access Membership – and still keep it personalized!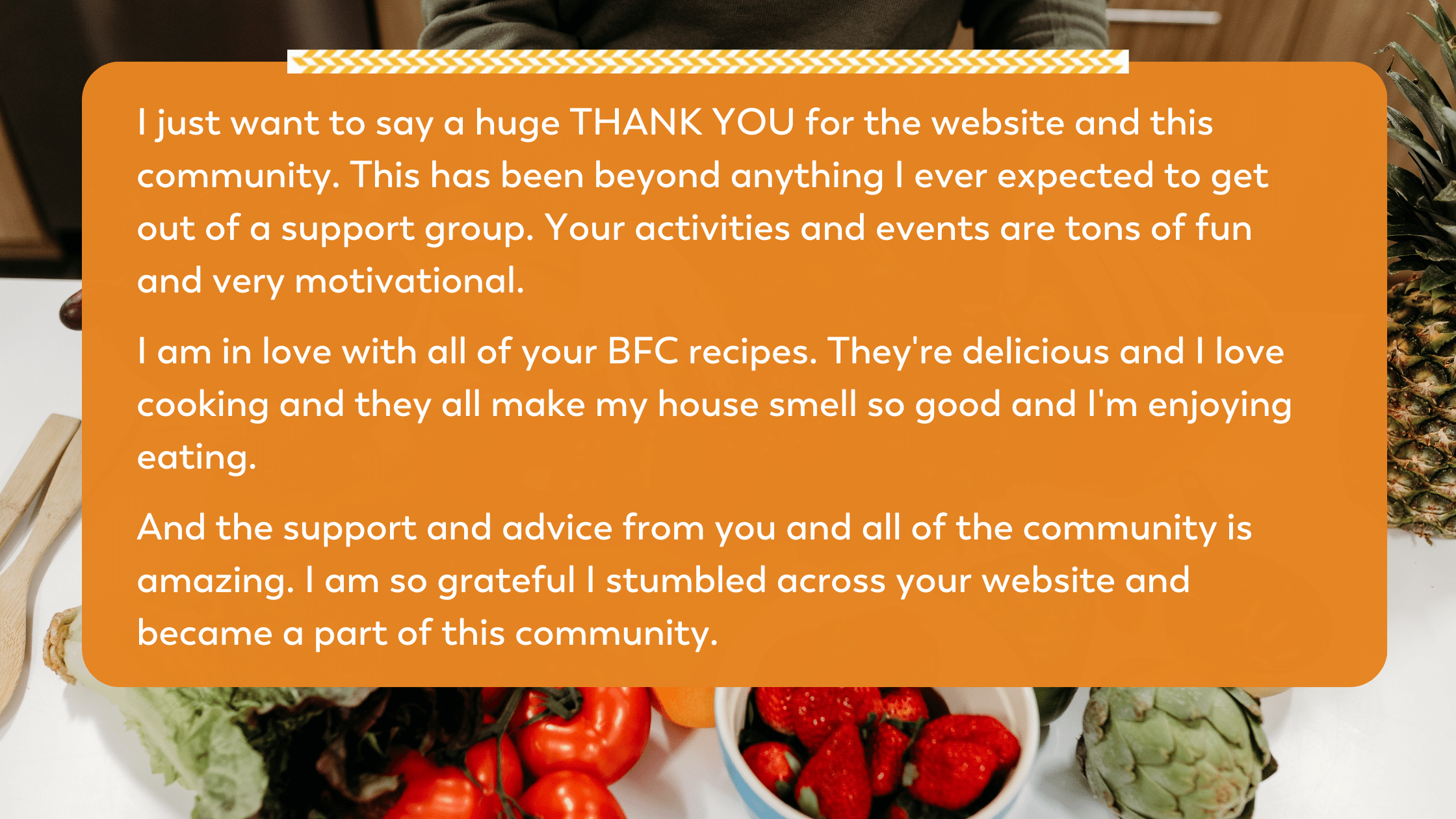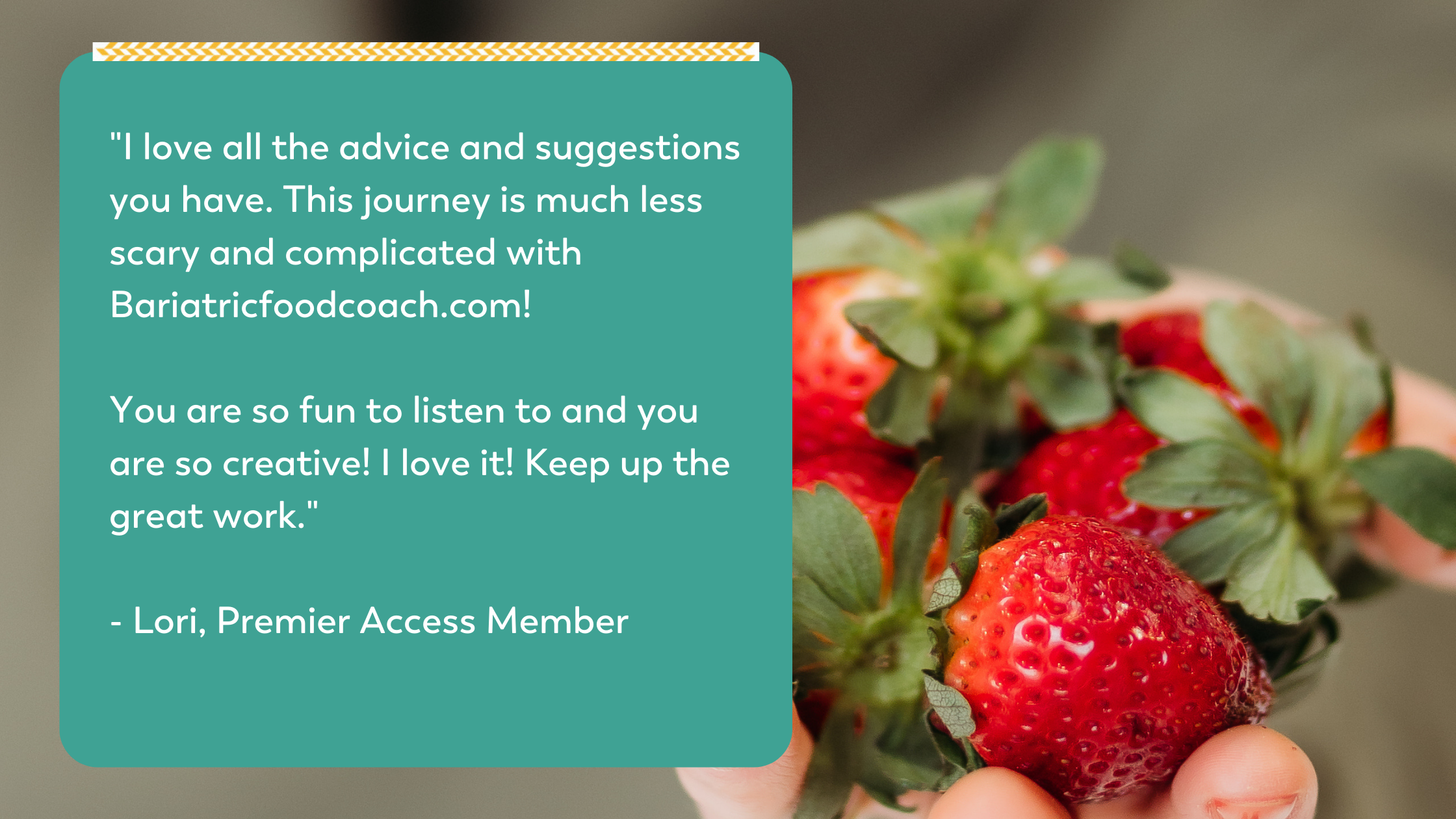 Our promise to you? You will always encounter encouragement first, feedback second. Because we all need cheerleaders more than anything!
And just who am I?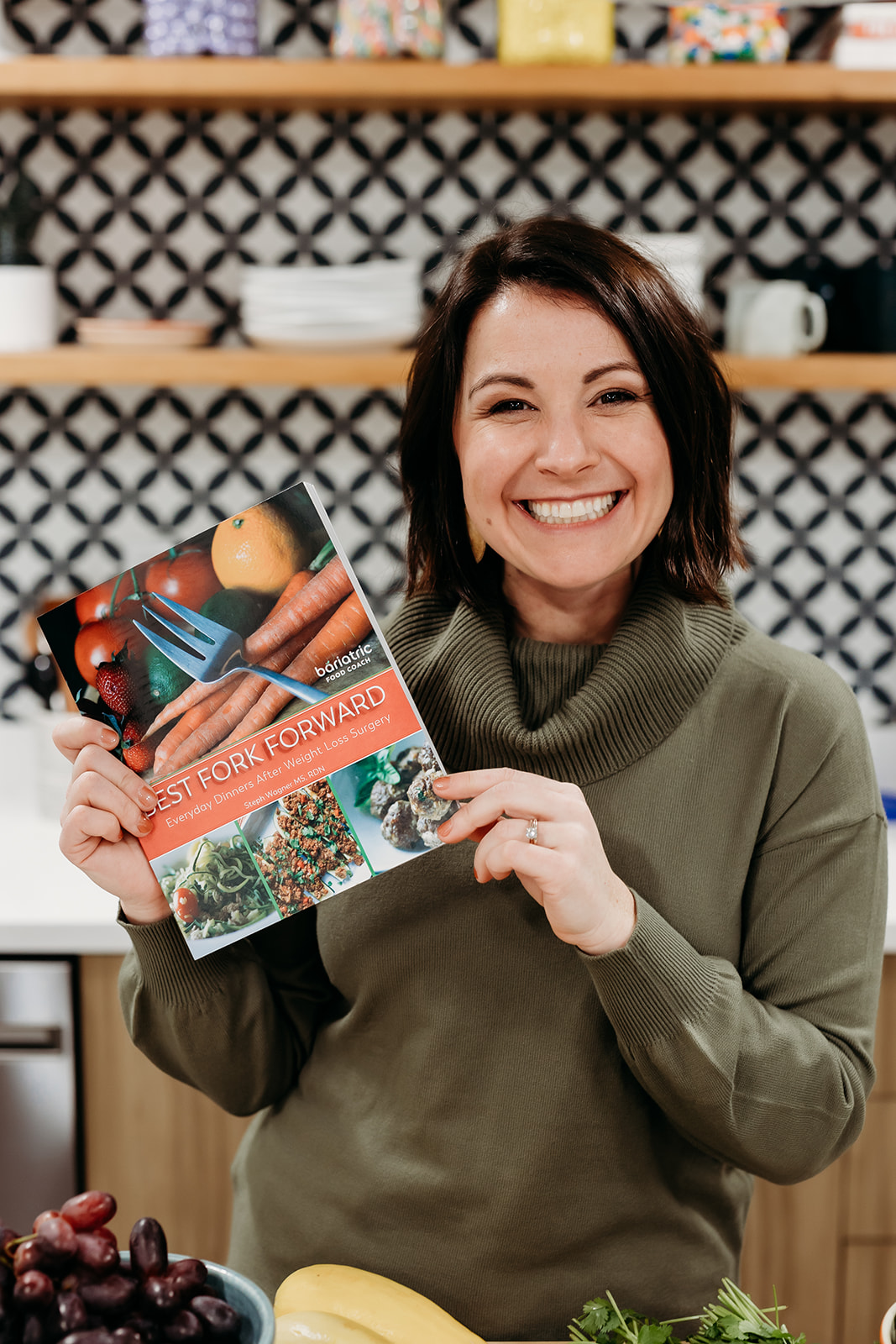 I'm Steph Wagner, a Registered Dietitian specializing in bariatric surgery nutrition.
I left my job in a bariatric clinic in 2016 to focus time providing resources and support to patients in between their follow-up appointments.
When patients kept asking if they could put me in their pocket, I came up with the next best thing. Are you ready?
How to know if you're a perfect match for Premier Access with Bariatric Food Coach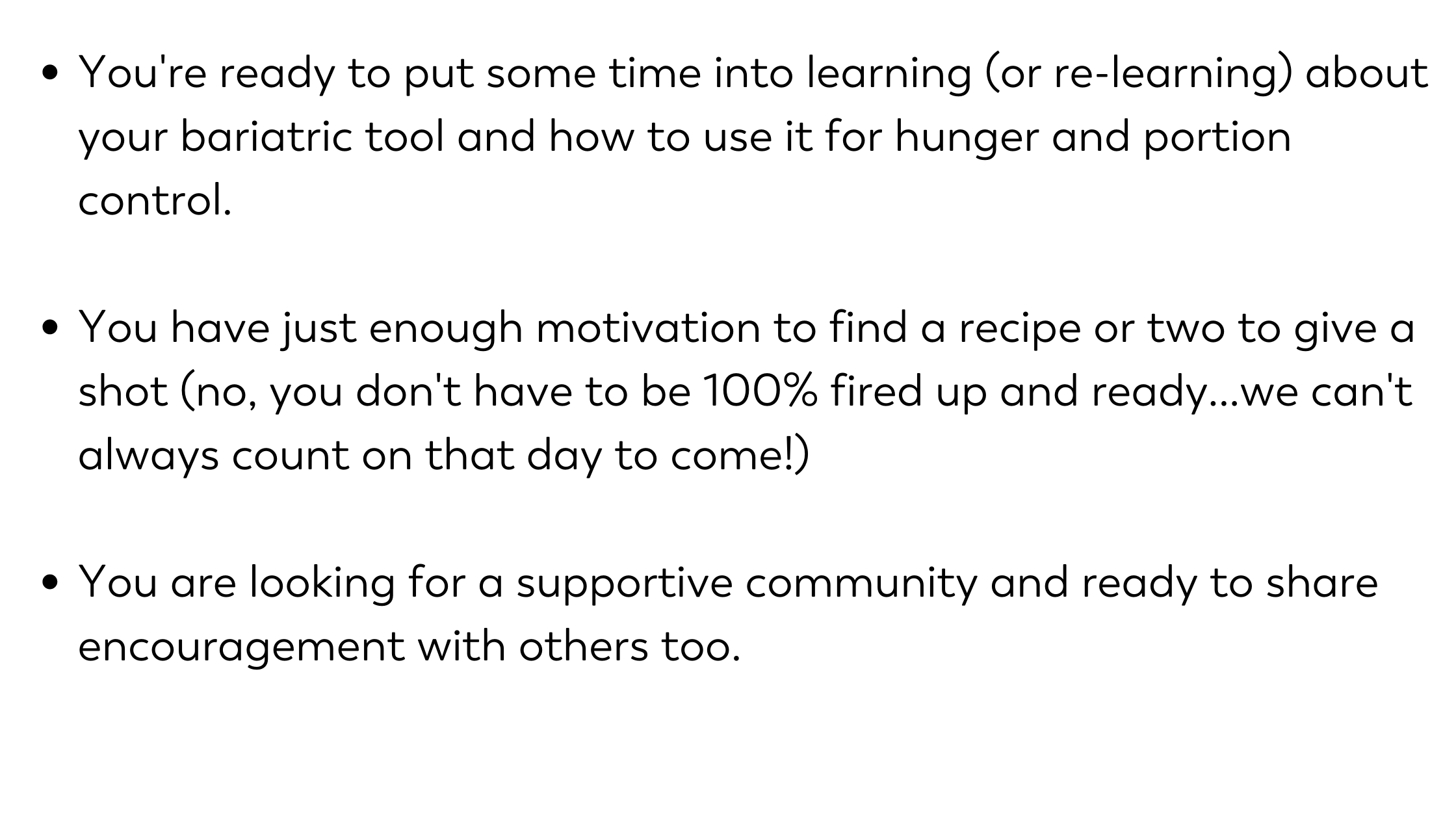 We might not be a fit if:
Here's what others have asked before joining! 
What if I never use the site?
Like anything else, you'll get what you put into it. I believe you will get more than your moneys worth if you carve out time to watch videos, grab recipes and resources and connect in our monthly activities.
Do you offer refunds?
We can offer a refund if you notify us within 24 hours of the payment. Because of the instant access of the materials – we have to keep a short refund period to limit people stealing information and requesting refunds. Don't you hate it when people ruin things?!
What kind of support is offered?
Our team is small but mighty! Our customer service email is checked every weekday. Our community is monitored by our coordinator. I answer nutrition questions as quickly as possible via email. If we have any tech glitches – we are ready for those too!
What if I need help customizing?
You might wonder if this is right for you. What if you're pre-op? Or a decade post-op?
My approach to bariatric eating applies to every stage and phase. All the resources are applicable and easy to customize. Anytime you wonder how to make something work for you – shoot us an email and we'll get back within 3 days!
I don't think I have time for this??
Our Premier Access Members are busy people – parents, students, teachers, nurses, you name it. The videos are short and self paced. The resources are meant to save you time before your week gets going. The activities are engaging but simple to keep us motivated. We believe using the offerings will SAVE you more time in the end!
How long do I get access? Can I cancel anytime?
Membership can be paused or cancelled at anytime. You can cancel from your Account page or email us that you'd like to discontinue. The payment will renew automatically every month (or 6 or 12 months if you use those options) unless cancelled.
At this point, it comes down to this:
What are your post-op dreams worth to you?
You started your bariatric journey with one thing in mind: get healthy, feel better and gain confidence.
You KNOW there is a way to use your surgery to its full potential – even when you can't eat perfectly every day.
And with my guidance, creativity and expertise, you can find the way that fits you best.
Join Premier Access Membership and let me help you:
– Get the insight you need to have clarity in your food choices
– Find creative flavors and recipes that are quick to prepare
– Understand why emotions drive us to food – and what to do about it
– Plan confidently for trips, holidays and busy weeks
– Have fun playing interactive games that support your goals – think team challenges, Bariatric BINGO and Scavenger Hunts
Save yourself time and confusion trying to figure it out on your own.
We've got a seat for you here!!
What are you waiting for?