Back to School Special!
$25 to BariBox, with purchase of 12 month membership*
See Details
*new customers only
10 Day Habit Refresh
Day Six: Water
Click here for Day Five: Starches & Sweets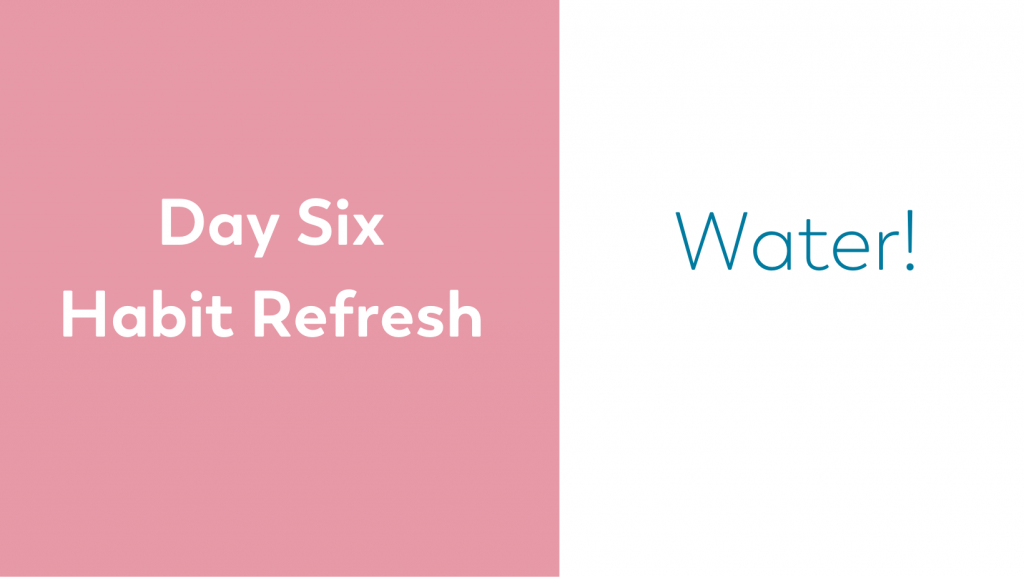 Click below to listen to the audio recording of this blog or continue reading!

Three questions we'll answer about each habit in this series
In this series I will answer three questions about each of the habits:
What benefit does this habit bring a post-op patient?
How might the lack of this habit effect a post-op patient?
How can you best build up this habit in the post-op daily life?
What benefit does water bring a post-op patient?
Water is one of those topics that can feel boring pretty quickly.
Perhaps we have heard all about drinking water, especially for weight loss from every single program ever made that it starts to feel ordinary. Like, "oh yeah I've heard that already."
That may be the thing though. If every weight loss program ever has encouraged water, there must be something to that, right?
We are going to talk through why water is so powerful. This is what I often call a 'cornerstone' habit meaning that so many things hinge upon it. The difference between a well hydrated body and a body that is lacking enough water is a very big difference.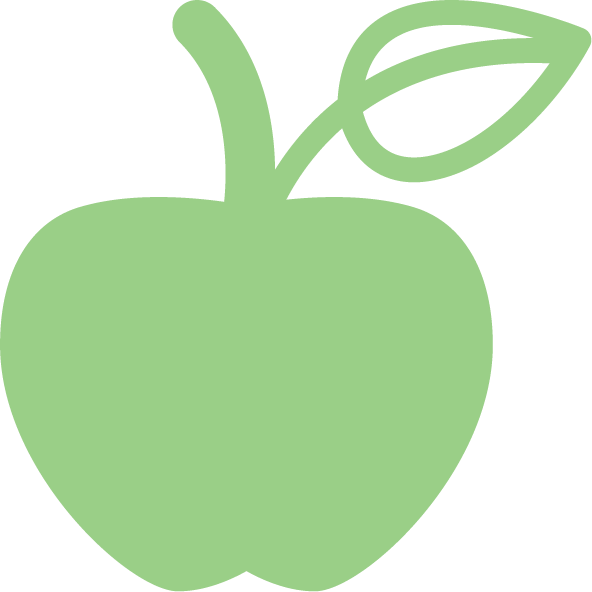 Water in the body
You may have heard that our bodies are 60% water. The brain and heart are composed of 73% water!
Every single cell in your body needs water.
Without it cells couldn't move waste and by-products, take in nutrients, perform intercellular transportation, functioning or signaling.
All that to say, water is essential.  In fact, water is the fourth macronutrient. Our bodies need fat, carbohydrates, protein and water.
You may also know that the body can handle going without food longer than it can go without water. As a general rule of thumb, a person can survive without water for about 3 days. Starvation from food is significantly longer because there are stores in the body. Not so must water!
How water benefits a post-op patient
I am a fan of highlighting positivity first. I could jump right into all the trouble that dehydration brings us, but instead let's paint a really good picture of a hydrated body.
Picture it for yourself if you will. Think of the times you have been really on top of water (bonus points if you are right now!)
A patient who is well hydrated tends to have a great energy level and even a good mood. He or she are more likely to be sleeping well. They find their appetite is well controlled and are able to better identify true hunger and feel more in control around tempting foods.
Should an illness or infection arise, the body is more prepared to get fight off the infection or bacteria. We can also talk about how great their skin might look and their joints might feel!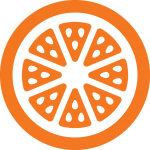 How might the lack of drinking enough water effect a post-op patient?
The first thing worth noting is that dehydration is the number one reason why a bariatric patient would show back up at the hospital.
After weight loss surgery you are more prone to dehydration and your water needs are of the upmost importance. Sometimes patients get so concerned about meeting protein goals but they lose water as the priority. Protein deficiencies are much more of a long game issue but water is more acute. (I know you're wondering if you protein shake counts as water. I will answer that in a moment.)
First let's brush up on symptoms of dehydration. We tend to put them into two categories. Extreme and mild.
Extreme Dehydration
Those situations are when a patient is in the 'extreme dehydration' category and needs to get IV fluids. Should you ever wonder if this is the case for you, you should go in. Better to go in sooner than later. (Here is a story of the time I needed to go in for IV fluids)
Symptoms of severe dehydration include little to no urine, very dry skin, very dizzy, rapid heartbeat, rapid breathing, confusion, extreme lethargy and fainting.
Mild Dehydration
While it is super important to know the symptoms of when dehydration is severe, what is really key is to identify it when it's still in the mild dehydration phase.
Mild dehydration would be noticed with dark urine, dizziness upon standing, dry mouth, headache and muscle cramps. It can also cause nausea and lack of appetite (something I see a lot with dehydrated post-ops).
What is really tricky about dehydration is that it can also make water not sound good and harder to get in. How rude is that? Your body really needs more water and yet not having enough water is making it harder to drink!
Oh and one more thing.
Dehydration is a common culprit in weight loss stalls. When the body is dehydrated, it doesn't want to let go of anything including fat. The body is less efficient at metabolizing fat if does not have enough water.
I really get someones attention to drink more water when I tell them it's causing their stall 😊  Here is a video that talks more about weight stalls. 
How can you best build this habit in the post-op life?
I will give you all the tips I can think of because I know water can be really hard for some. It also requires work everyday! Water is tricky because it does require being as consistent as possible.
In fact, a word on that. When someone gets behind on water, its not like they hit reset at midnight. They are starting the next day low on water so their needs are greater. This is why dehydration can snowball from mild to severe.
If you are struggling to stay hydrated I would recommend a few things.
But first a note on what counts as water. Programs differ but I look at the three C's. If it's less than 15 calories per 8 ounces, no caffeinated and not carbonated then I count it.
This means I don't count protein shakes. I also don't count them because eventually we want to graduate to food protein (remember protein textures) so counting on shakes as water can mean less water when shakes are decreased.
First, know how many ounces you are drinking. No more guessing, start recording.
Second, it's time to aim for more. Set a goal that doesn't feel crazy overwhelming that you will give up before you try. Your fluids needs are 1 ounce for 1 kilogram of you body weight. To know your kilograms of body weight, divide your pounds by 2.2 and that's about how many ounces of water.
That number might be really overwhelming (250 pounds means 113 ounces of water…that is a lot if you're barely getting to 64 ounces). I would try to at least aim for the 64 ounces if you aren't there yet.
This also means as you lose weight, you require less water because you are hydrating less of yourself!
Other tips:
Temperatures
Pay attention to temperatures you drink more. In the winter I often don't use ice but in the Summer I have to have it. If you like warm drinks, try broths, herbal teas or warm water with lemon.
If you like cold, use insulated water bottles to keep the ice cold. If you like room temperature, fill several bottles and leave them out in eyesight.
flavors
Many patients will use water flavorings, which I think is a great resource. Programs may differ but I think squirting water flavoring in to stay hydrating is great.
You can also use lemons or limes (these packets add lemon/lime flavor to water), cucumber slices, fresh rosemary sprigs or orange slices. I've also put a drop of my favorite DoTerra tangerine essential oil in my water. So good.
Know your routine, set your goals
Some patients will fill their water bottles or a large jug the night before or in the morning and know they need it to be empty at the end of the day. This makes it easier for them to see what they need to get in.
Other patients will divide it up in their schedule. "I need a glass before breakfast, a bottle before lunch, two bottles before dinner and one glass before bed so I don't have to go to the bathroom so much!"
Use an App to Track
There are tons of free water apps of you might find water can be tracked in an app you're already using.
I use my Garmin smart watch to track water. In the past I have used Baritastic. (I have also used post-it notes, whatever works).
Check out the App store on your phone and read reviews. You might find one that makes a fun game out of drinking enough water!
*By the way! Membership prices are set to increase on January 21st, 2022 for the first time in 4 years. Lock in the current rate when you join before that date!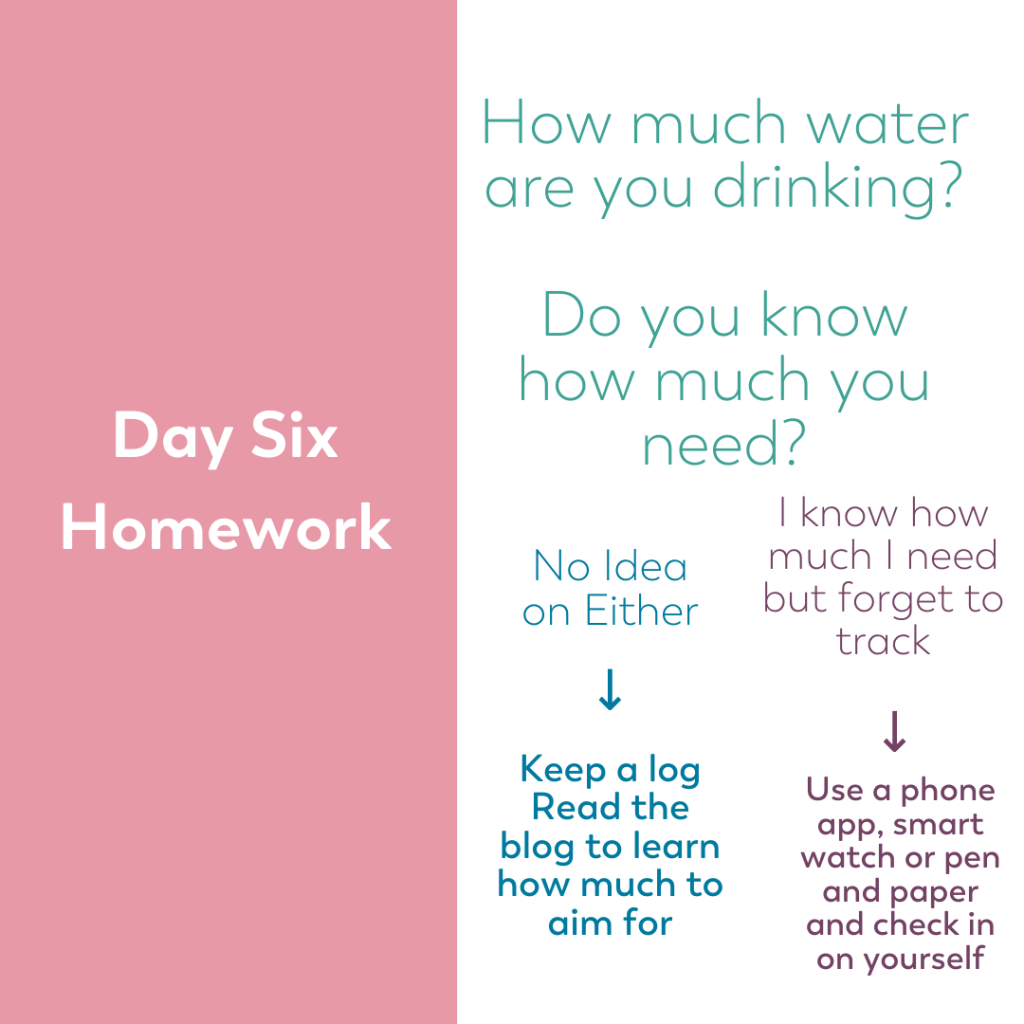 Click here for Day Five: Starches & Sweets