Free "Go to Meals" Template
Blank template to add your favorite meals, save time on meal planning

Do you find yourself stuck in a rut for healthy and simple bariatric recipes?
Making the same dishes all the time and out of ideas? It can be intimating to sit down and sift through recipe ideas too!
As simple as it is, this blank template can save tons of time and keep your meal plan fresh. Write down your favorite meals so you can remind yourself later!
These are meals you have made before so you know you like them and know you can handle them! Fill up the lines and you will have a rotation of enough meals to avoid burnout!
Click the image below for the free Go To Meals template PDF!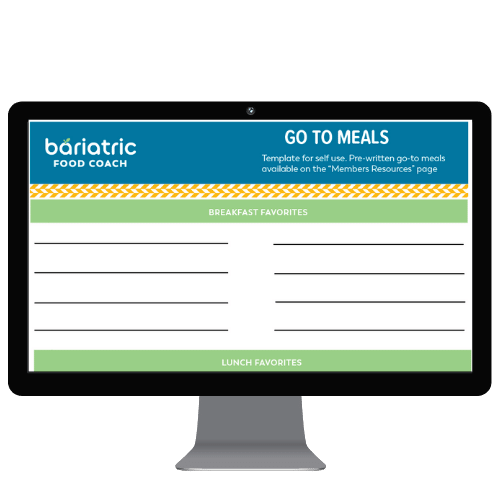 Need some recipe ideas? You are in the right place!

There are over 500 recipes on Bariatric Food Coach! Many are free to anyone! Those with a pink border are reserved for Premier Access Members.
In fact, click this link for an excel spreadsheet of ALL the recipes! There is a column that indicates if the recipe is locked for members or not.