Bariatric Freezer Meals
Back to School, Back to Meal Planning: Blog Series Part 8
Bariatric Freezer Meals ❄️ This post contains affiliate links.
Check out all the blogs in this series:
Back to School, Back to Meal Planning (survey results and tips to meal plan faster)
Picky Eaters and Bariatric Surgery (Part One)
Picking Eating and Bariatric Surgery (Part Two) 
Cooking for One after Bariatric Surgery
Keeping backup meals on hand
As we finish up the Back to School, Back to Meal Planning blog series I figured we should wrap it up with options for when we need a backup.
All the other blogs have covered meal planning styles and how to plan ahead for food in your own way. Sometimes that means cooking for one or trying new foods if you've been feeling particular.
Now we shall talk about freezer meals to have stocked for when your plans don't happen.
For the sake of organizing this blog we will talk about bariatric freezer meals that are
1 – cooked by you and frozen
2 – precooked and packaged for individual meals (aka tv dinners)
3- frozen ingredients that are quick to toss together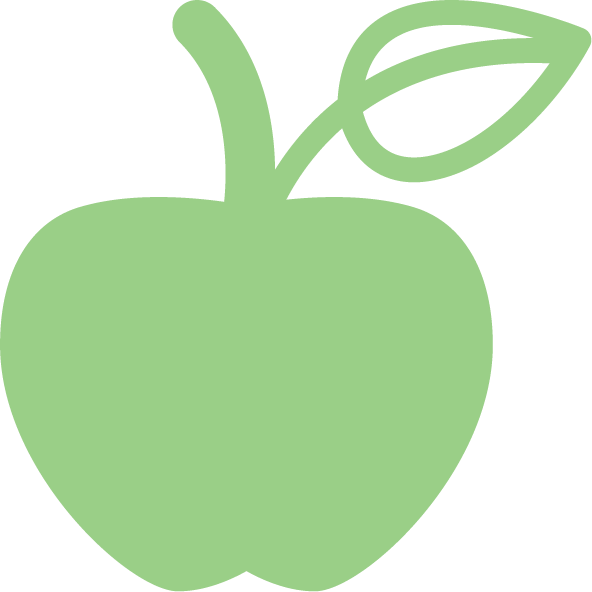 Home cooked bariatric freezer meals
I touched on bariatric freezer meals a little when we talk about cooking for one after surgery.
My personal approach to stocking my freezer includes making a large quantity of a recipe, eating some that evening and then freezing the rest into batches that serve two (my husband and myself).
My favorite way (currently) of freezing those batches is my vacuum sealer. I label the bag with permanent marker to include the recipe name and the date it was cooked.
Then I use my bag stands (recommended to me by members) to scoop to food in and then vacuum seal. I typically lay them flat to freeze to take up the least amount of space.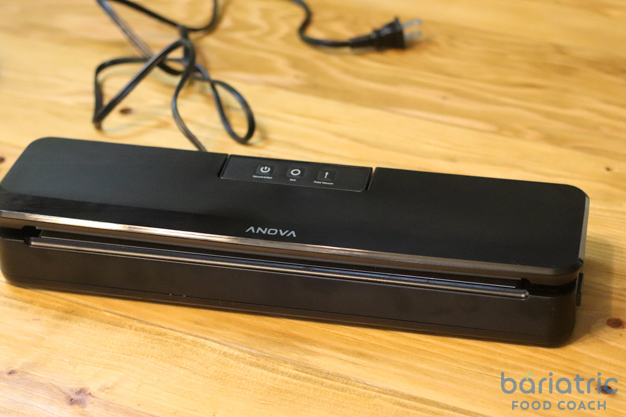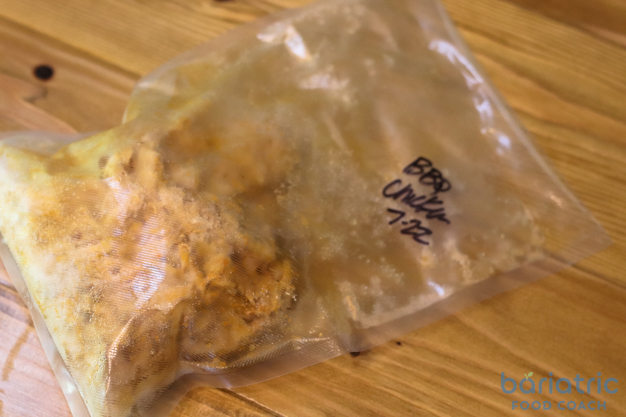 While I use a vacuum sealer, there are few tools that are really helpful for freezing a meal you've made. Souper Cubes are a popular option for freezing portion sized meals.
I've also used my silicone muffin pan to freeze chunks of chili (and move them to a ziplock® bag once frozen) or my Pampered Chef Freezer Cups. Although, they seem to be a discontinued item (why?!?! I love them!)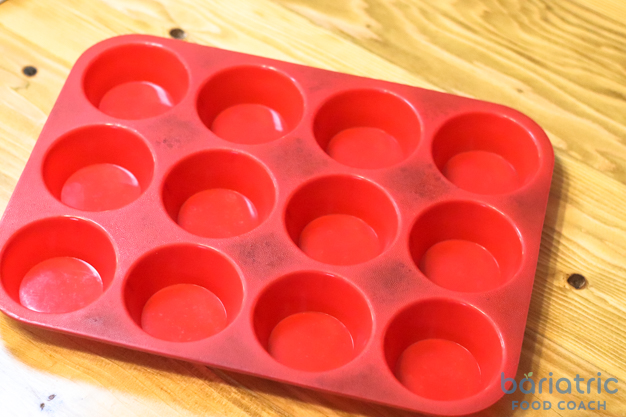 Pre-cooked, single serve bariatric freezer dinners (aka tv dinners)
The great news on frozen TV dinners (do we still call them that?!) is that more options have come on the market in recent years that focus on lean protein and vegetables without extra starch.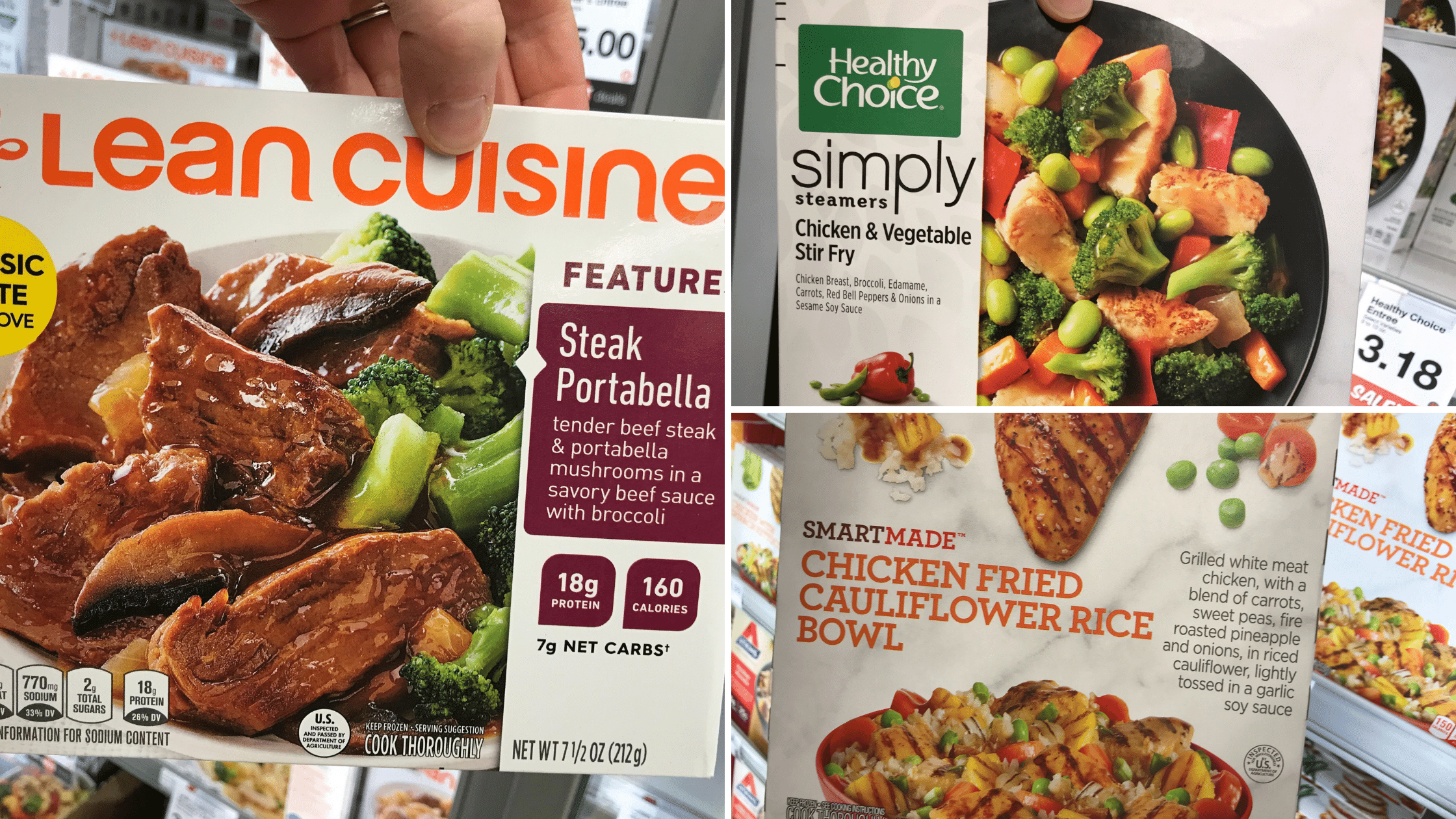 The frozen meals section will still be covered with options that have rice, pasta or potatoes. The first trick is to scan the photos and meal names for ones that don't seem to have the higher starch ingredients.
Next, I like to double check the nutrition information. (Members can use my Nutrition Label Cheat Sheet for things like this!)  I like to aim for meals that have at least as much protein as it does carbohydrate and limit fat to less than 10 grams.
The photo above shows some options I found in my local grocery store.
Members also have access to my Freezer Meals Guide, click here to access.
Bariatric friendly freezer meals to toss together
This category is in some ways a hybrid between a home cooked and frozen meal and a pre-cooked and packaged meal.
Example: a bag of frozen stir fry vegetables and a bag of cooked grilled chicken strips, cooked together with stir fry sauce
These are great for keeping on hand when you need to feed more than just yourself and want to keep a backup meal on hand.
Personally, my very favorite options are often from Trader Joe's. Our TJ's is in town but not very nearby me so on the occasional time I get over there, I load up their frozen items.
I love their frozen chicken strips (shown below) and have tossed those with several different veggie options they have as well. I would highly recommend keeping both of the items in the photo below stocked in your freezer!
If you don't have a Trader Joe's, still check your local freezer section for similar items. Another option is pre-cooked chicken or beef strips with frozen bell peppers and onions. You can heat them on the stovetop and serve with salsa for a quick, protein focused meal!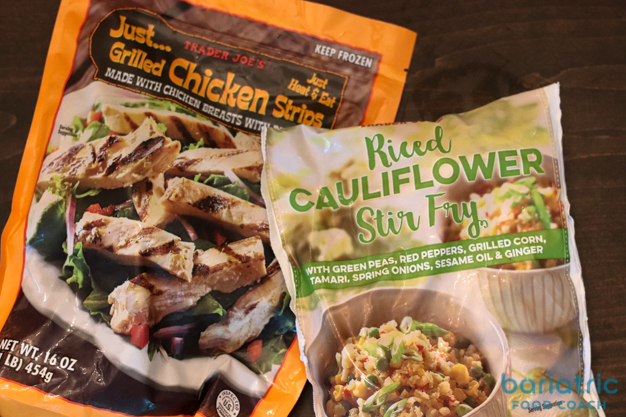 Members have access to my full Trader Joe's Bariatric Shopping Guide!
One more suggestion…BariBox Meals!
You can read my full review on BariBox meals on this blog post here but I had to include it on my list of stocking your freezer.
BariBox is pre-cooked and portioned meals for bariatric surgery patients that are shipped anywhere in the US. Jana Wolf is a bariatric dietitian and creator of this awesome company. She saw a need for her patients to have tasty, bariatric meals on hand so she found a local kitchen in her area and made it happen!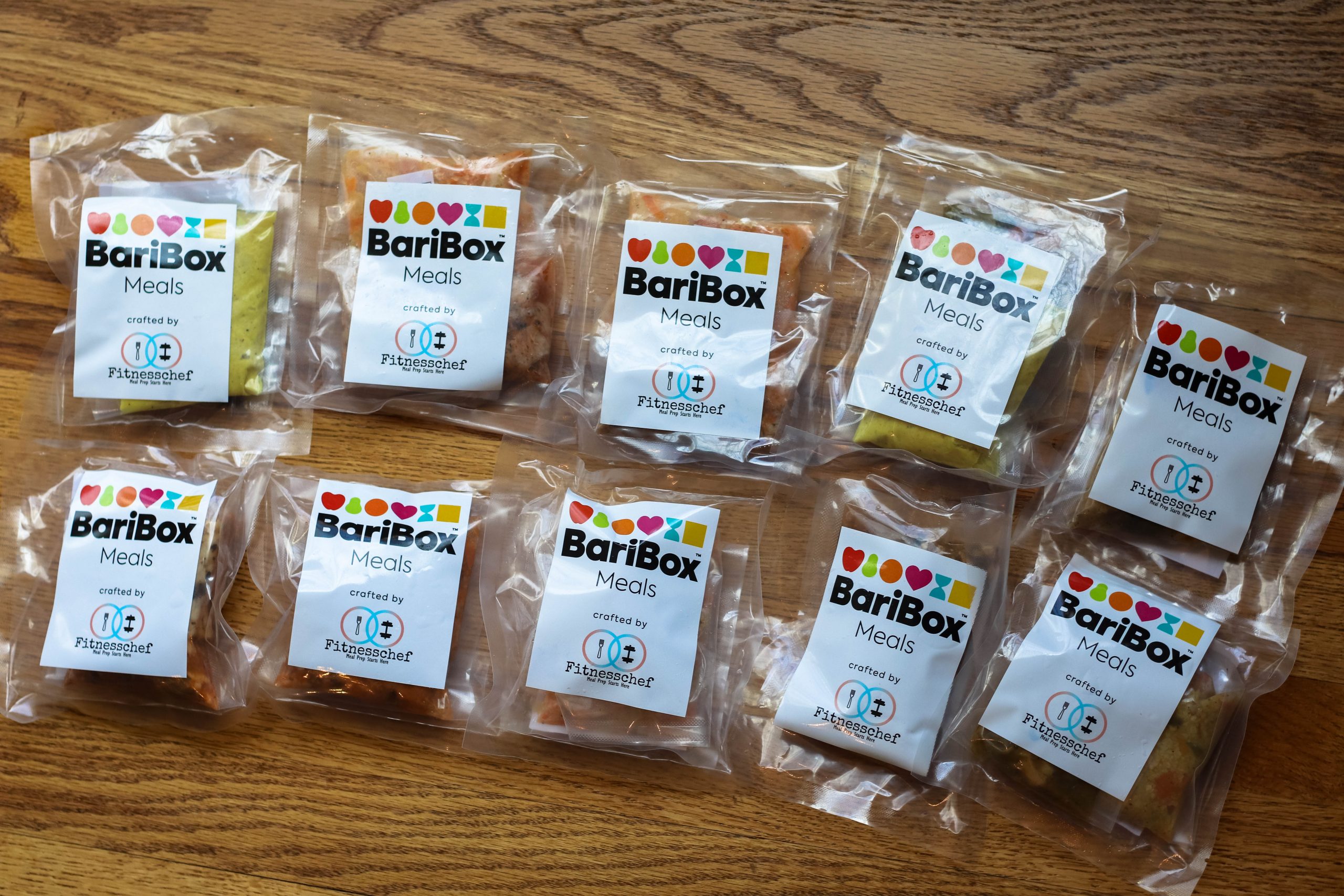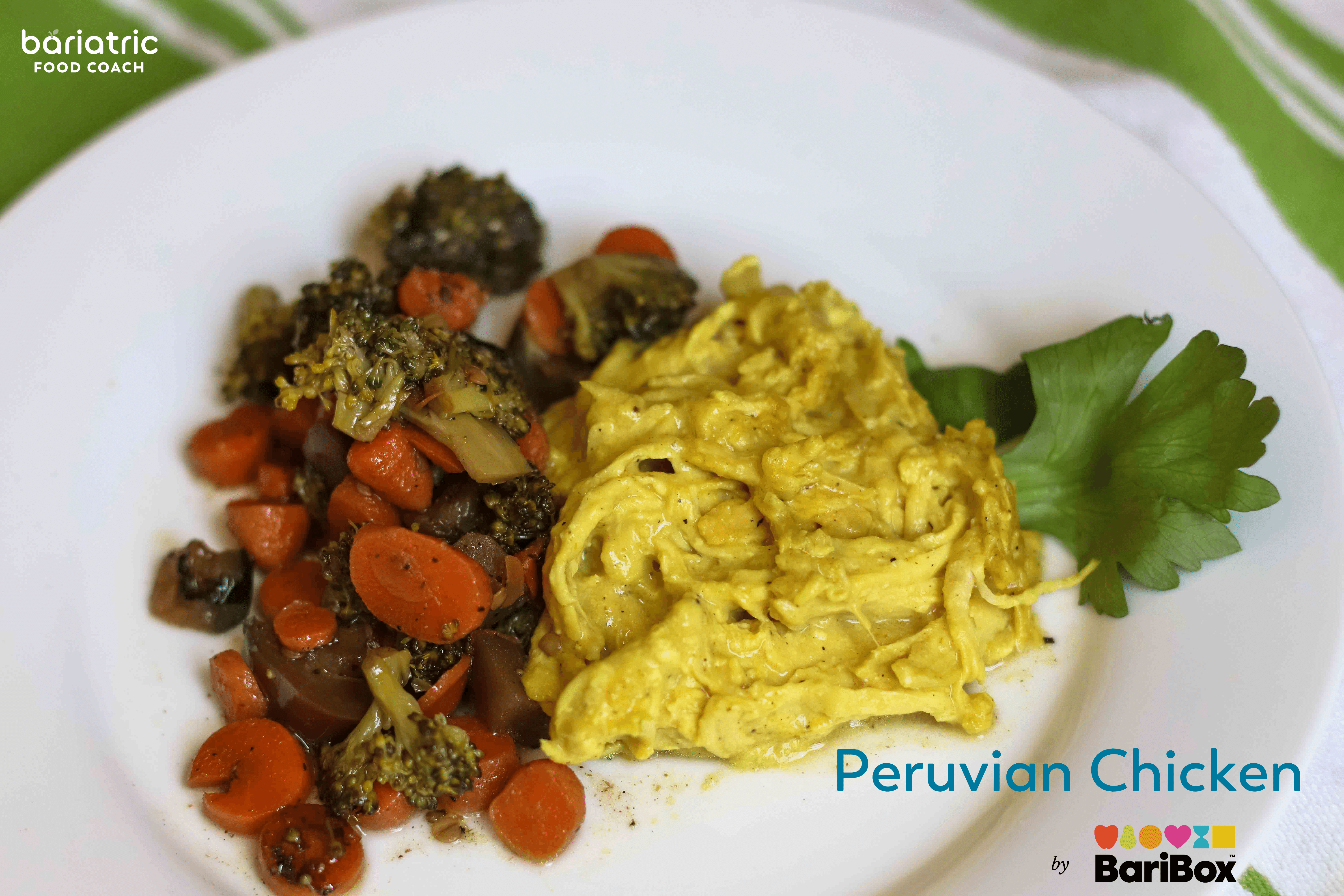 You can have a subscription but don't have to. That means you could place a one time order to stock meals in your freezer as a backup even if you don't think you'd need it delivered consistently.
If you use BariBox meals, and leave a comment and let others know!
Have other ideas or suggestions for bariatric freezer meals?
Be sure and leave a comment with your ideas!  Would you add anything to the three categories?
Home cooked bariatric frozen meals, pre-cooked bariatric tv dinners and bariatric friendly freezer meals to put together!
That's a wrap! Get caught up on the full Back to Meal Planning Series!
Check out all the blogs in this series:
Back to School, Back to Meal Planning (survey results and tips to meal plan faster)
Picky Eaters and Bariatric Surgery (Part One)
Picking Eating and Bariatric Surgery (Part Two) 
Cooking for One after Bariatric Surgery