Meal Planning Writer's Block
Back to School, Back to Meal Planning: Blog Series Part Three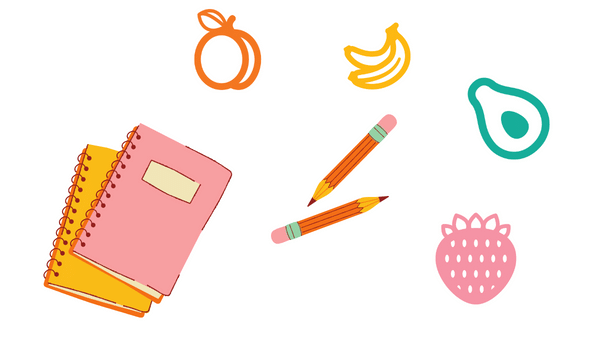 Click here to part one of the series when I share my tips to getting back to simple meal planning super fast.
Click here for part two of the series when I share about meal planning  styles and meal planning resources for each style.
Do you get meal planning writers block?
If it's any consolation to you, I have been a dietitian for well beyond a decade. I have shared over 600 recipes on this very website. I STILL get meal planning writers block.
What in the world.
Most likely the culprit is feeling tired from kids, work, LIFE and having very little energy leftover for food decisions.
Can you relate? 
When Sunday evening comes around, I start to think of the week ahead. I should make a menu and order my groceries. But when do I have time to pick up the groceries? And I have 15 other things I want to do before I fall into bed tonight.
OH and….
My kids aren't the easiest eaters. They aren't the hardest, but they are kids.  Introducing varieties of food to them is key. That is true. Making food that doesn't get eaten is the worst. And that is also true.
When it's Sunday evening and you don't feel like meal planning for the week
When you're having meal planning writers block, here are a few tips.
For one, it doesn't have to be a Sunday.
If you're like me, you front load the beginning of the week with too many to-dos and expectations. My brain is so conditioned to think about planning for the week ahead that meal planning on a Thursday (for example) is weird.
Although, sometimes that's what you should do. Consider how you can space out your weekly duties.
Plus, statistically Wednesdays are the best day of the week to shop when it comes to savings and selection. Many grocery store deals start on a Wednesday! (Source)
When picky family members make meal planning extra challenging
Here is my next tip for meal planning writers block.
You have permission to make your own menu first and then figure out how their food can fit in.
While I am all for the family members eating the same meal, I also know it's not always true. Personally, I want my family to sit and eat at the same time. We do this many nights a week. Only one or two of those weekly meals are are my kids eating the same thing as us.
I have decided, it really is okay. My kids will eventually eat lemon garlic stuffed chicken, but not if I make them. At least we are eating as a family and they have protein and fruit or some kind. This keeps my spouse and I eating well and at home.
I plan my meals for myself and my spouse. Thankfully he's not the picky one. If your spouse IS the picky one, you might plan for yourself and then figure out what to add on the side. You can also let them know the menu for the week and that you're happy to buy something else if they aren't happy with the menu.
I prefer putting energy to my own food planning. It's not selfish. It's self care.
You can prioritize your food needs and still feed the rest of the family. Sometimes that means I have to cook extra. Even better is when I teach them how to make whatever it is they are wanting!
Seasonal meal planning
The other thing about meal planning (and writers block) is that for many of us, the Season matters in our meals. We enjoy chili in the Fall and grilled meats in the Summer.
Those meals are easy when the Season first begins to change. I cannot wait for our first Chili of the Fall! Though it's only a matter of time we're all tired of chili and the excitement is gone. (Hence the approximately 57 different chili recipes on the site!)
My meal planning tip here is to look at the weather and make a note of what you've been eating too much of lately!
You don't have to meal plan for 7 days
In case you need permission, you are free to plan dinner for the next couple days and stop.
Another reason we often get writers block is because we only come up with a couple nights of ideas, get stuck and quit.
It would be better to go ahead and order groceries or go shopping for those next 2-3 meals than to give up.
For one, you might get ideas while you shop! You might find pre-made items you didn't know about at your store. Plus you'll prevent yourself from being annoyed for yet another day that you didn't get to the store.
Take your tiny scratch paper of meal ideas and grocery needs to the store. You can build up your meal planning skills another day. This is still meal planning even if it's not perfect or not as long as you'd wanted.
Introducing the Meal Planners Cheat Sheet!
This is a Members Resource for breaking through the meal planning road blocks. I have used this personally for a few months. Once I get started on this little worksheet, I often go further than I'd thought and end up with my menu and grocery list ready for the week.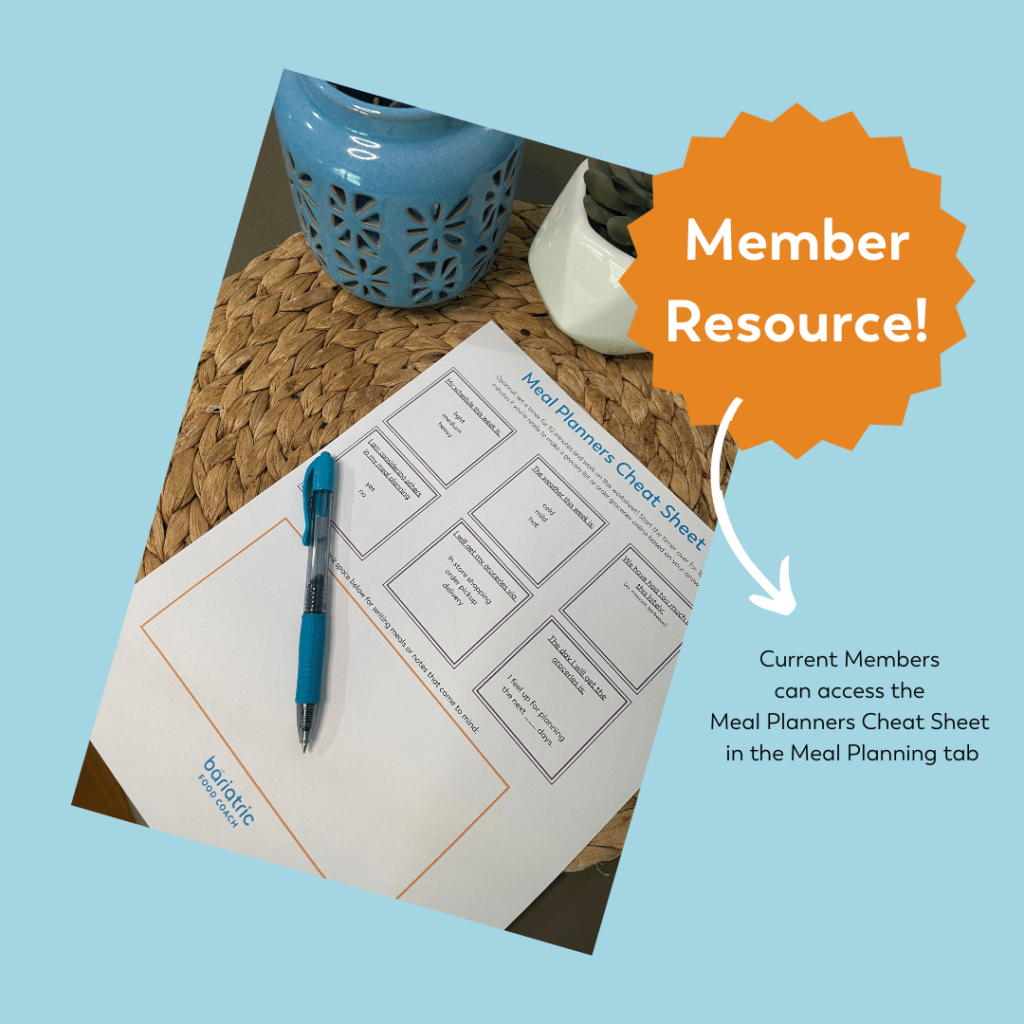 The cheat sheet is available to members right now by clicking this link! You can also find it under the Meal Planning tab when you're signed in.
The boxes on the sheet work through questions including how busy is your week, what is the weather like, what are you tired of eating, who are you planning for and a few others.
These questions get your wheels turning and have you name your roadblocks so you can move forward!
If you aren't a member, join today and access the Meal Planners Cheat Sheet and thousands of other bariatric resources! Like the Bariatric Nutrition Label Cheat Sheet!