Enrolling Now! Winter 2023 Focus Month
Get focused with us February 6 to March 5
Get More Info Here!
Batch Grilling Bariatric Proteins My favorite way to batch cook is on my grill
Batch grilling bariatric proteins is, in my opinion, a huge secret weapon to staying on track.
When it comes to batch cooking plenty of food at one time, grilling is the powerhouse! I love to batch cook protein sources like burgers, chicken, pork, skewers and foil packs of turkey sausage or chicken tenderloin.
When it comes to focusing on a bariatric friendly diet of protein and vegetables, it makes sense the grill is such a great fit! Bonus, most grills have a large cooking space so you can load it up easily and quickly. When I turn on my grill, I take a glance around at what else I can add. That's exactly what I did the day I took these photos.
Pork, Chicken and Foil Packs oh my
At the time of this particular cooking session, we were in the early weeks of COVID-19 hitting our area. I went to the grocery store without my usual weekly meal plan and instead just started selecting protein sources I often use.
I fired up my grill and started making it up. The grill is great at keeping things simple.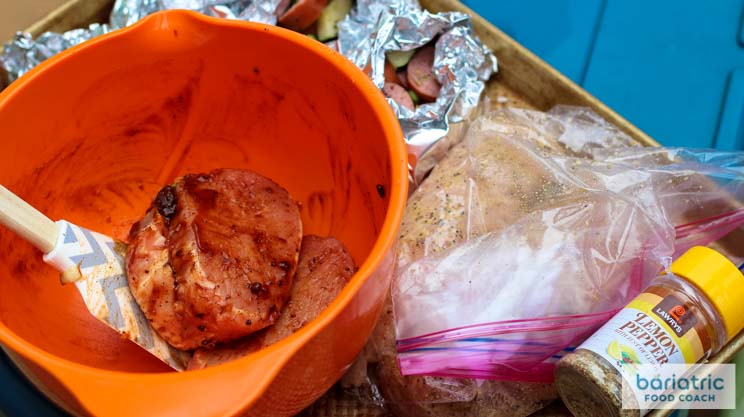 Barbecue Pork Chops
I used my Pampered Chef® Smokey Applewood seasoning and coated both sides then brushed on a little barbecue sauce to each side.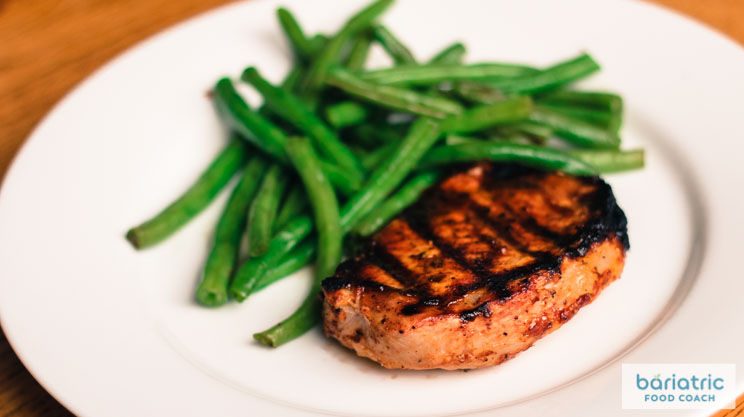 Turkey Kielbasa Sausage Foil Packs
For my foil packs, I rough chopped asparagus and zucchini then sliced turkey kielbasa sausage and added to a large bowl.
I tossed with a spritz of olive oil and my favorite McCormicks® Montreal Steak Seasoning.
I divided the mixture over 4 large squares of foil and folded the foil but left an opening at the top.

Lemon Pepper Chicken
I didn't take a separate photo of my lemon pepper chicken, but you can imagine what it might look like :) I patted my chicken dry and use a touch of olive oil to coat it with a Lemon Pepper seasoning.
I didn't have particular plans for the chicken but figured cooked chicken would help my family more than raw chicken!  I diced the grilled lemon chicken and kept it in the refrigerator.
We primarily used the chicken to add to bagged salads but used the leftovers to make a basic chicken salad with light mayo and celery.
More bariatric friendly grill recipes
Below are just a few recipe images to help your wheels turn for loading up your grill. Note the first two are member recipes.
You can also click here for the search results for grill recipes on Bariatric Food Coach.
Happy Grilling!
Steph