10 Day Habit Refresh
Day One: Meal Structure
Updated January 2023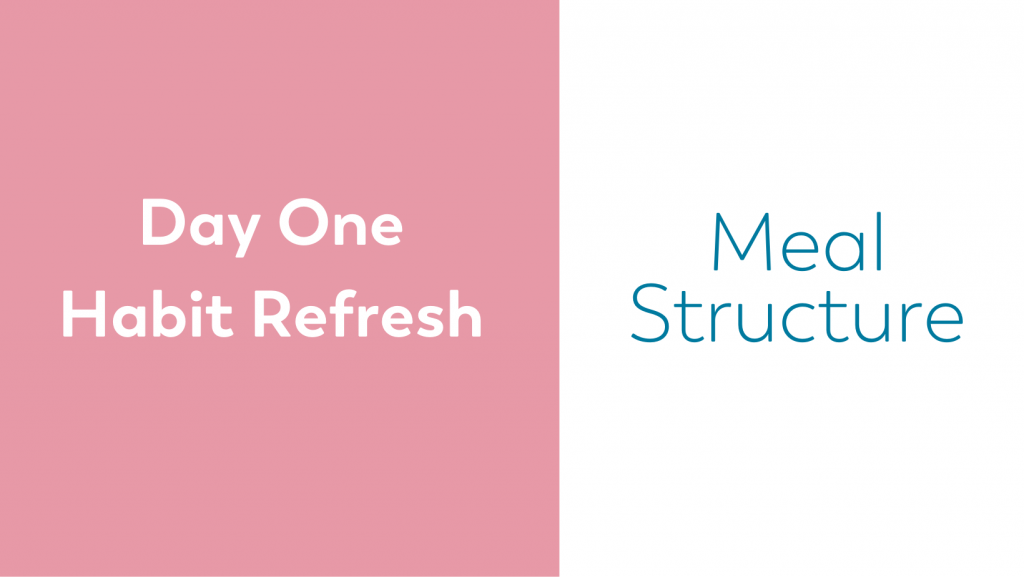 Click below to listen to the audio recording of this blog or continue reading!
Three questions we'll answer about each habit in this series
In this series I will answer three questions about each of the habits:
What benefit does this habit bring a post-op patient?
How might the lack of this habit effect a post-op patient?
How can you best build up this habit in the post-op daily life?
What benefit does meal structure bring a post-op patient?
A look into the dictionary will remind us the word structure is defined by these words:  to construct or arrange according to a plan; give a pattern or organization to.
Other phrases for meal structure include 'meal plan' or 'meal pattern.'
Why does having a pattern or structure to your meals make a difference? (Feel free to tell me your own answer in the comment section!)
The benefit of meal structure is multi-faceted. We will focus on two main areas: mental and physical.

Mentally
Our minds thrive on consistency and routine.
It is true, some personalities really love routine while others feel constricted! Nevertheless, habits and patterns come naturally to us all and building up the ones that benefit our health overflow into feeling mentally balanced and at peace.
Play out how you feel mentally when you have meal structure.
You wake up and know the pattern of your morning to include breakfast. Lunch is roughly the same time each day and you have either packed it or know where you will go for your meal. Dinner too is around the same time and the family is used to the plan.
Your mind is clear from wondering what time are we eating dinner tonight? or gosh I can't remember if I even ate breakfast.  Having a meal structure allows food to be threaded into your daily routine and takes less mental thought in the moment.
Structure in your meals is not the only thing that benefits your mental health. A quick Google search about daily routines will yield pages of results about how helpful they are to mental health.
I am personally reminded of the pattern of daily routines when I have my kids follow along with a checklist for their morning and evening routines! It is amazing the difference in how our daily goes when we use the checklist and when we stay away from it.
Physically
The mental benefits of having structure and routine are reason enough to build the habit but it certainly doesn't stop there.
Physically our bodies crave consistent routines and structure. When the body can expect to get fuel is very much included in this.
I often refer to babies when I talk about the importance of meal structure. When I became a Mom, nearly one of the first orders of business was feeding. The most basic needs of an infant include nourishment and sleep! Let that be a good reminder to us that our bodies still have those basic needs.
The benefits physically of a good meal structure include
metabolism benefits
blood sugar control benefits
hunger control benefits
easier to stay hydrated

Metabolism benefits
When you eat consistent meal times, your body comes to trust it will be fed at its routined intervals. This allows it to burn energy efficiently because it does not have to worry about conserving the fuel, it believes that it will get fuel again soon.
On the flip side, when someone is skipping meals or eating at different times each day, the body does not trust when it will get fed next. It will become more of a storer of calories instead.
Metabolism is a fancy word but it means the bodys process to turn food into energy for the body to operate. There are a handful of practical things we can do to make the body do this process more efficiently. Consistent meal structure is one of them (along with exercise and consistent sleep).
Blood Sugar Control Benefits
Whether someone has a diagnosis of diabetes or not, blood sugar swings impact us all (even more so and more dangerously in diabetes, which is why those patients have to work so hard to monitor their blood sugars swings).
A good meal structure will allow the body to maintain a blood sugar level in the desired window.
Going too long without eating will cause blood sugar to go lower which triggers your body to have you eat, often too quickly (ravenously), too fast, too much and/or high carbohydrate containing foods.
When that happens, the blood sugar will come up but often swing up too high. The ups and downs of blood sugar mean you do not feel your best (and again, more dangerous with diabetes).
Consistent meal structure helps your body do its job more to keep blood sugars stable and regulated.
Hunger Control Benefits
Similar to blood sugar benefits (they are related) are the hunger control benefits of meal structure.
Building the habit of a consistent meal structure allows you to stay on top of your hunger.
Not unlike 'pain control' it's best to stay on top of it. If you've ever had a surgery (wink, wink) you likely had a nurse come into your room right on time for you next pain medication dose to stay on top of pain. If you've ever gotten behind on the pain, it's miserable and so hard to get back in control.
Hunger may not be as intense of an experience as extreme pain but it does impact our minds, moods and bodies. Having a meal structure that has you eat right on time instead of a few hours too late, makes a big difference in how you will control your hunger later in the day.
Easier to stay hydrated
When you have structure to your meals, you then have a clear window of when you need to be drinking your fluids!
When you cannot drink during and after meals, it is really helpful to know when is an ON time for drinking. Having a meal structure means you can know when your job is to be drinking water!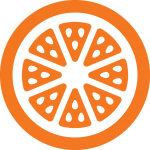 How might the lack of this habit effect a post-op patient?
If you made it through the last sections, you likely know where this answer is heading!
Let's play out what not having a meal structure might look like for a post-op patient.
Let me say this, as a dietitian, when a patient has no structure to their day or their meals it is really hard to give them instruction. In fact, the first order of business would be to get them on a structure!
This is not unlike a financial planner telling someone the first thing you need to do is follow a budget. It is hard to know what is going on when there is no visual.
If a patient has breakfast sometimes, eats lunch sometimes but it might be later in the afternoon it might also mean they are grazing by 4pm. They may be struggling with snacking at night because they cannot control their hunger (they got behind) and their blood sugars have been telling them when to eat more than their schedule.
They may find they hit weight loss stalls sooner or more frequently because metabolically their body is not as efficient with the lack of structure.
How can you best build this habit in the post-op life?
The first step is to find some clarity on what times really and truly make the most sense for you to feasibly eat your meals during the day.
When I was working with patients in clinics, I would hand them a pen and paper and have them write at the top of the paper what time they woke up in the morning. Even if it was a range of time, I had them write it down.
Ideally breakfast is within the first 60-90 minutes of waking (breaking the fast – this is a good thing for metabolism). Breakfast often brings up many questions and that's okay! Feel free to comment with your questions and I will respond! 
From there we would write in lunch based on what their day looked like. Same with dinner. This is about when I ask them how the schedule feels so far. If dinner was feasible very late at night, we would schedule in a snack between lunch and dinner.
We would notice how many hours are in between each meal and note how many hours they had for drinking water.
This is easier for some and harder for others. If someone works night shift, it's a similar process. What time do you wake up before work? When do you take a break in the night for a meal (aka 'lunch break')? Do you typically eat when you get off or go straight to bed?
Some will need to write out the meal schedule and put reminders in their phone that meal time is coming up. The benefits of working hard for structure are worth it!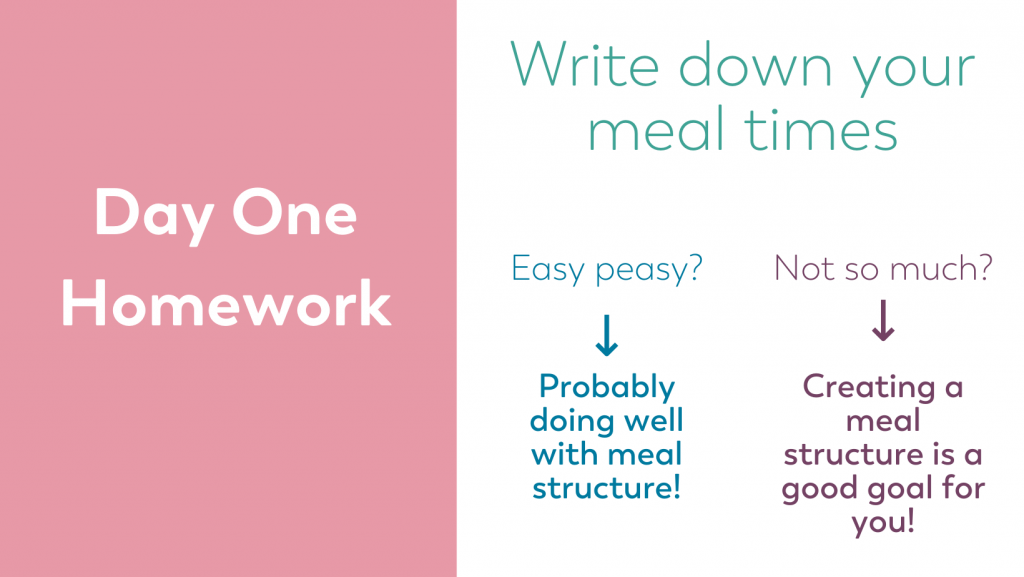 Ready for day two? Click here!