Hamburger Salad
Quick bariatric friendly dinner
After weight-loss surgery, a deconstructed burger is common place. Having a lean hamburger without the bun can leave you full and satisfied for hours! As long as those bites are tiny!!! 
When I had limited time to make and eat dinner before a meeting, I knew I had lean ground beef in the fridge and some lettuce. I made the ground beef into patties and got them started on the stovetop. When I realized time was ticking, I broke the hamburger into pieces that I knew would cook even faster:
After Gastric Sleeve or Gastric Bypass surgery, these chunks of hamburger would need to be cut even smaller. You might consider removing the hamburger pieces from the pan and place them in a shallow bowl, breaking the meat up with a fork. A good visual for bite sizes is the size of a black bean. This allows food to fit more comfortably into your pouch allow you to feel great after your meal and full for hours.
For extra flavor I sprinkled McCormicks® Molasses Bacon seasoning generously over the meat. Any burger friendly seasoning will work!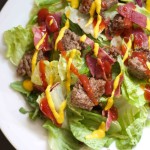 Dinner FAST - Hamburger Salad
Pin Recipe
Print Recipe
Ingredients
1

lb

93% lean ground beef

pinch

each salt & pepper

1

tbsp

burger seasoning of choice

8

oz

mixed greens

4

slices

turkey bacon, cooked and diced

1

tbsp

diced pickle slices as desired

1

tsp

each mustard & low sugar ketchup as desired
Instructions
Heat a grill pan to medium high on the stovetop. Cover lightly with cooking spray.

Form ground beef into four patties, sprinkling both sides with salt and pepper.

Brown both sides of patties, about 3 minutes per side. Use a spatula to break the burger to smaller chunks to continue cooking faster. Sprinkle generously with seasoning of choice for added flavor.

Meanwhile, layer chopped lettuce on a plate or in a bowl. Add turkey bacon. Squirt mustard and ketchup as desired. Dice pickle slices up if desired. Once ground beef is cooked, add to salad.