Quick Bariatric Dinners – Summer Edition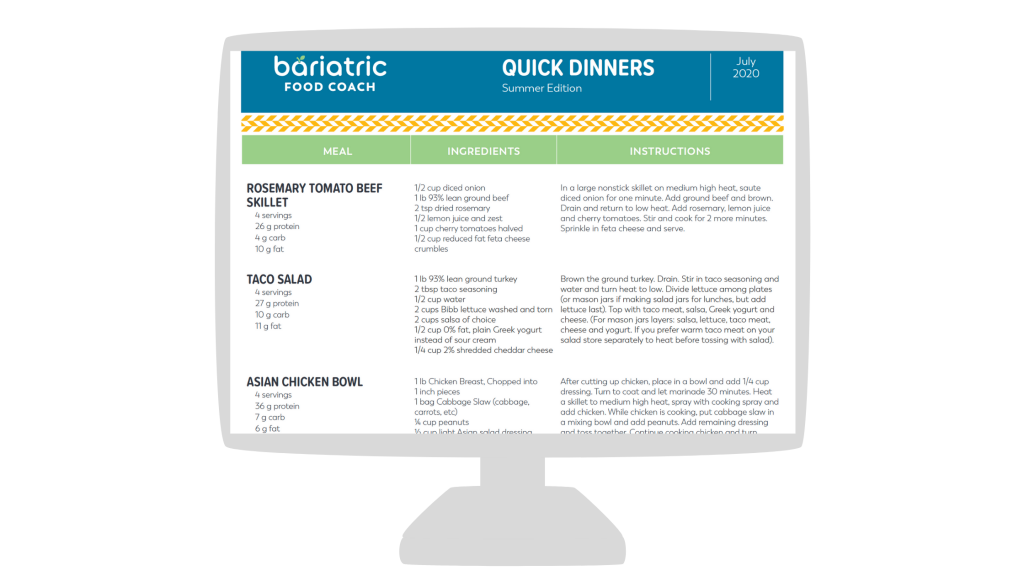 New Members Resource posted for fast and easy bariatric recipes to make in the Summer
Inspired by my broken dishwasher
Here is the backstory behind writing this Quick Bariatric Dinners Summer Edition. I have lived in my house for three years with my wonderful family of four. The family before me? They lived here for forty-nine years and there are a few areas of the house that prove it, my oven included.
You can see my 50 year old oven in the back of my free video course How to Get the Most out of Weight Loss Surgery! Join my email list and watch! 
The good news is that the dishwasher is not as old as the oven. The bad news, is that it is still old enough to have run its last cycle. My sweet husband is not one to rush a purchase. Oh no. One must not simply go to Home Depot and buy a new dishwasher (as I would do) but instead will research what decibels are too loud and how long a cycle should really be while staying affordable and of course, efficient.
All this to say, I have not had a dishwasher the past few weeks. There also is not new dishwasher on its way at the time of writing this post.  Not to worry, any minute now Mr. Wagner is sure to pick the optimal dishwasher to order for arrival in two to three weeks.
Oh you didn't need the backstory of why I create a new PDF for QUICK DINNERS that require few dishes? Well it was therapeutic nonetheless!
Quick Dinners – Summer Edition
A few years ago I made a "ten go to dinners" list on my website for members during a Get Focused Challenge.
I still love that list but decided I could take it a step further and make one for each season. So I have started with Summer!
Below is an image of the first three recipes on the guide. There are twelve recipes on the full PDF.
The full guide is available to members of Bariatric Food Coach and includes a total of twelve quick dinners. All recipes are included in the recipe library which is now over 500 recipes!
If you are already a member, click this link to the locked members page to get your PDF!