Enrolling Now! Winter 2023 Focus Month
Get focused with us February 6 to March 5
Get More Info Here!
Air Fryer Steak and Mushrooms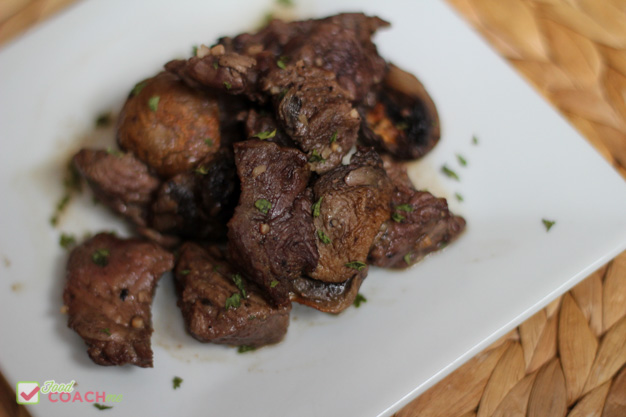 Air Fryer Steak and Mushrooms, high protein bariatric friendly recipe
Does steak scare you?
Many a weight loss surgery patient feels intimidated by steak! If you've had an experience of having food feel heavy, getting stuck or just plain hurting, steak may seem scary.
Other patients prefer steak! Chicken is the one to make them a little nervous.
The biggest culprit of dense meats like steak feeling uncomfortable is too big of bites and speedy eating. 
I coach my bariatric patients to aim for bites the size of a black bean and to put their fork down between bites. Ask yourself after each bite "am I good here? Do I need another bite?"
There is no shame in filling up on the dense protein and eating as much as you feel comfortable. But while you don't want to stop too early and end up hungry in an hour, you also don't want to overdo it and feel discomfort for hours. This is the journey of a tiny pouch…no matter how long it's been!
Bariatric Air Fryer Recipes
Along with many of you, I now have both an Instant Pot and an Air Fryer. What will they come up with next?!
The primary difference between the two is the way it cooks the food. The air fryer cooks with hot air and the Instant Pot cooks with pressure (steam) which provides a texture difference. Hot Air vs Steam.
I've found my Instant Pot is great for large recipes of stews or chilis. I like it for moist chicken breasts and pork tenderloin. I find the texture is much softer as if it's been stewing in a liquid for a long time.
*Find out about my Instant Pot eCookbook. Free for members or purchase it without a membership: Click Here for More
While I'm still exploring more recipes with my Air Fryer, I have found they have more interesting texture. I do make smaller portions in my Air Fryer compared to my batch cooking in the Instant Pot.
I really enjoy Salmon in my Air Fryer as well as heating pre-cooked chicken sausage links for a quick dinner. Meatballs took me a few times to get down, but once I did we really enjoyed them!
Shown below: Air Fryer Salmon (member recipe) and BBQ Cheddar Meatballs
Air Fryer Steak and Mushrooms
This recipe was primarily tested from a recipe found on Pinterest from whiteonricecouple.com. The main adjustment to the recipe was to omit butter.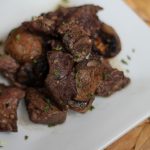 Air Fryer Steak and Mushrooms
Sirloin steak cubes and sliced mushrooms cooked easily and tenderly in an Air Fryer.
Pin Recipe
Print Recipe
Ingredients
1

lb

lean sirloin steak

cut into cubes

8

oz

sliced mushrooms

spray butter

1

tsp

Worcestershire sauce

1/2

tsp

minced garlic

dried

1/4

tsp

pepper

salt to taste
Instructions
Trim and cut steak into 1 inch cubes. Kitchen shears or serrated knife are preferred tools.

Preheat Air Fryer to 400 for 4 minutes.

Add mushroom slices to steak. Spray three times with butter spray, toss. Spray three more times, toss. Add Worcestershire, 1/2 tsp dried minced garlic and 1/4 tsp pepper, toss.

Spread mixture in the bottom of the air fryer. Air fry at 400 for 12 minutes, shaking the mixture half way through cooking.

Add more time if you prefer steak to be more done, 3 to 5 more minutes.

Season to taste and serve.
Notes
Nutrition facts are calculated for one fourth of the recipe; an estimated 3 ounces.
Nutrition
Serving:
3
oz
|
Calories:
168
kcal
|
Carbohydrates:
2
g
|
Protein:
27
g
|
Fat:
5
g
|
Saturated Fat:
2
g
|
Cholesterol:
69
mg
|
Sodium:
82
mg
|
Potassium:
580
mg
|
Fiber:
1
g
|
Sugar:
1
g
|
Vitamin C:
1
mg
|
Calcium:
32
mg
|
Iron:
2
mg
Nutrition Facts
Air Fryer Steak and Mushrooms
Amount Per Serving (3 oz)
Calories 168
Calories from Fat 45
% Daily Value*
Fat 5g8%
Cholesterol 69mg23%
Sodium 82mg4%
Potassium 580mg17%
Carbohydrates 2g1%
Protein 27g54%
Vitamin C 1mg1%
Calcium 32mg3%
Iron 2mg11%
* Percent Daily Values are based on a 2000 calorie diet.