Chaffles and Weight Loss Surgery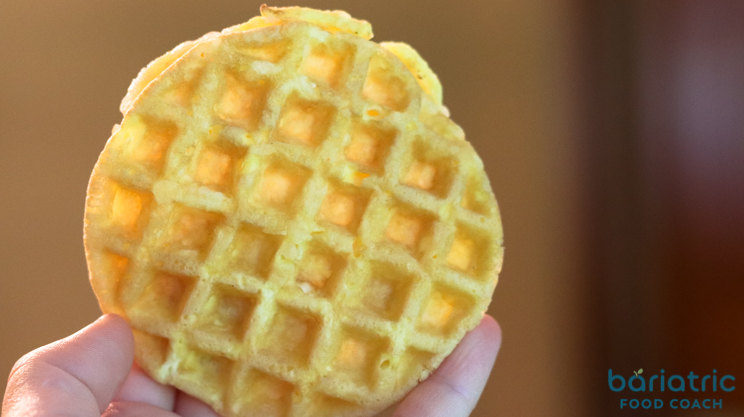 Have you joined the Chaffle Craze?
What is a "Chaffle"
I am a total Chaffle newbie. If it were not for my website members educating me on all things chaffle – I would not be qualified to share this post. So consider this my dedication section!
A Chaffle is a low-carb waffle with cheese as the main ingredient.
When I first heard cheese was the main ingredient, I was concerned about the fat content. Some recipes will sneak in a lot of fat so watch for lower fat cheeses and/or high fat ingredients.
When using eggs, egg whites, lower fat cheese and other protein sources many of these recipes are bariatric friendly and a fun way to get creative!
How to make a basic Chaffle
The most basic Chaffle (and the one I started out with, shown in the picture above) is just egg and cheese.
1 egg + 1/3 cup 0% shredded mozzarella (because that's what I had).
I whisked the egg, added the cheese and stirred to incorporate the two.
I heated my small Dash miniature waffle maker (available at Target and other retailers) and poured on half of the mixture. I waited the 2 or so minutes for the indicator light to change and that was it!
This was my first go around so it was nothing fancy, yet I was still impressed!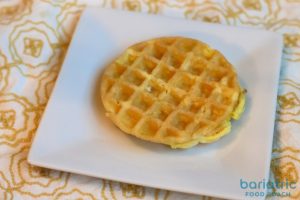 Oh the Chaffle options
I may have only started my Chaffle journey but members have been sharing their favorite suggestions with our group. They have given me permission to share their varieties!
Pizza Chaffle: Heat the iron, put shredded part-skim mozzarella cheese mixed with tomato sauce in the bottom, add other toppings as desired (spinach and pineapple were recommended) then add a little more cheese and cook 3-4 minutes
Buffalo Chicken Chaffle: Heat the iron, put shredded cheddar cheese in the bottom, add rotisserie or canned chicken mixed with yogurt ranch dressing and old bay hot sauce, then more cheese and cook for 3-4 minutes
Fried Pickle Chaffle: Use a shredded low-fat cheese of choices and place on the bottom of the heated waffle iron, add dill pickle slices and then a little more cheese. Close the iron and cook 3 minutes.
Rueben Chaffle: Preheat some deli turket in a skillet. Add sauerkraut and 1 tbsp thousand island dressing (or Russian). Heat the iron, put light provolone cheese on the bottom. Add turkey mixture and top with light swiss. Close the waffle iron and cook 3-4 minutes.
Bagel Chaffle: made with eggs and cheese but topped with fat-free cream cheese and Everything but the Bagel seasoning on top
Waffle Chaffle: Mix  1/4 tsp baking powder, 1 pinch salt, 1 tsp melted butter, 1 egg and 1 tsp vanilla together. Whisk in 1 scoop vanilla whey protein powder. Add Fairlife® milk slowly until a pancake batter consistency. Bake in wafle iron. Makes 4 (5m) waffles with an estimated 10.5 grams protein each
"Best Ever Chaffle": Mix together 1 large egg, 1/2 cup shredded mozzarella (or any cheese), 1/4 cup almond flour, 1/8 tsp baking powder, 3 tbsp granulated low-carb sweetener such as Swerve, Splenda or Erythritol. Heat the waffle maker. Add mixture and bake.
Other add ins:
Add a scoop of unflavored protein powder and 2 tbsp of water for more filling protein version.
Add a scoop of Powdered Peanut Butter for a flavor twist!
One member noted she prefers to use egg whites when she is making one she does not want to taste eggy.
Do you have any chaffle variations you've tried and loved?
Leave a comment and let us know! I will be making all these on the list above!