26 Bariatric Liquid Phase Recipes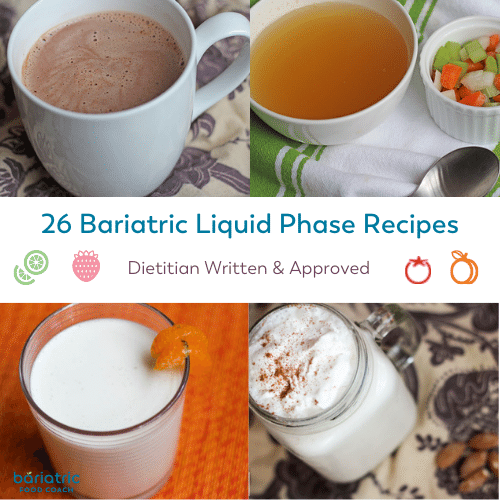 Finding variety in your pre-op liquid diet or your healing liquid phase diet after bariatric surgery
The liquid diet phase after Gastric Sleeve, Bypass, Duodenal Switch or other bariatric surgeries can get really old, really fast. These liquid phase recipes can really help change things up.
It is very common for things get too sweet and you miss chewing something real. Who can blame you?
Several of my recipes include other options such as savory broth or a warm chai tea. The recipes are linked below! But first, why do programs differ with the liquid diet and some program have liquid diets before surgery?
Every bariatric program does it a little differently
Every program differs on the pre-op and early post-op diet phases after bariatric surgery. Of course, the natural question is but why?
Surgeons, dietitians and nurses compare research as well as their patient outcomes to develop what they feel is the best approach. Thus, there are different approaches.
Some programs will require weight loss before surgery both as a way to shrink the size of the liver (to reduce surgery time, bleeding and recovery time) as well as help prepare the patient for the changes to come.
Other programs won't require weight loss (unless the insurance company has requirements) but will instead have you do a structured diet 1-2 weeks before your surgery date. Sometimes this diet depends on your BMI going into surgery. I have worked in clinics that have patients with a BMI over 50 go on a liquid diet for a week before surgery.
My personal preference is to avoid a liquid diet before surgery because…you'll have one after surgery! While your surgeon will determine the course of action for you, my take on the matter is to make changes needed for post-op success during your pre-op months. This will help transition you into the post-op habits and you'll likely see weight loss!
Regardless if you have liquids before surgery or before AND after surgery,  below is a large list of ideas to keep variety in your liquids.
The most important thing about the liquid phase after bariatric surgery
🍓
Stay hydrated!!
HYDRATION is still the most important thing. Yes, even more than protein. It's true that you do get liquid in when you have a protein drink however many programs don't count protein shakes towards your water goal.
Because eventually the protein shakes will be taken out of your diet as you move towards food protein. When you move towards food protein, time is taken away from drinking (no fluids with meals and 45-60 minutes afterwards). Thus, we tend to prefer you are able to feasibly get all your water in without relying on shakes to do so!
Once again, programs do differ, but I count water as anything that is not carbonated, not caffeinated and less than 15 calories per 8 ounces. (Protein shakes would not fit the last one!)
For a fully load blog about how much water you need after bariatric surgery, what counts as water and how to get more water, click here!
Also, here is a blog post about the power of hydration in the bariatric lifestyle. This is part of my 10 Day Habit series that focuses on the habits of most successful patients!
Liquid phase bariatric recipes linked below
👉 Click on the image and the recipe page will open.
🔒 Recipes with a lock icon are including in our Premier Access Membership.
🔑 Unlock over 600 recipes and ALL our member resources today! 
You click the photos above or these links below!
Berry Cream Protein Shake *members recipe*
Basil Lemonade *members recipe*
Aromatics Infused Chicken Broth
Java Chocolate Protein Shake *members recipe*
Protein Vanilla Latte *members recipe*
Vanilla Spice Protein Shake *members recipe*
Chocolate Mint Protein Shake *members recipe*
Cookies and Cream Protein Shake *members recipe*
Chocolate Peanut Butter Protein Shake
Cucumber Mint Water *members recipe*
Alcohol Free Watermelon Margarita