Bariatric Review: Hello Fresh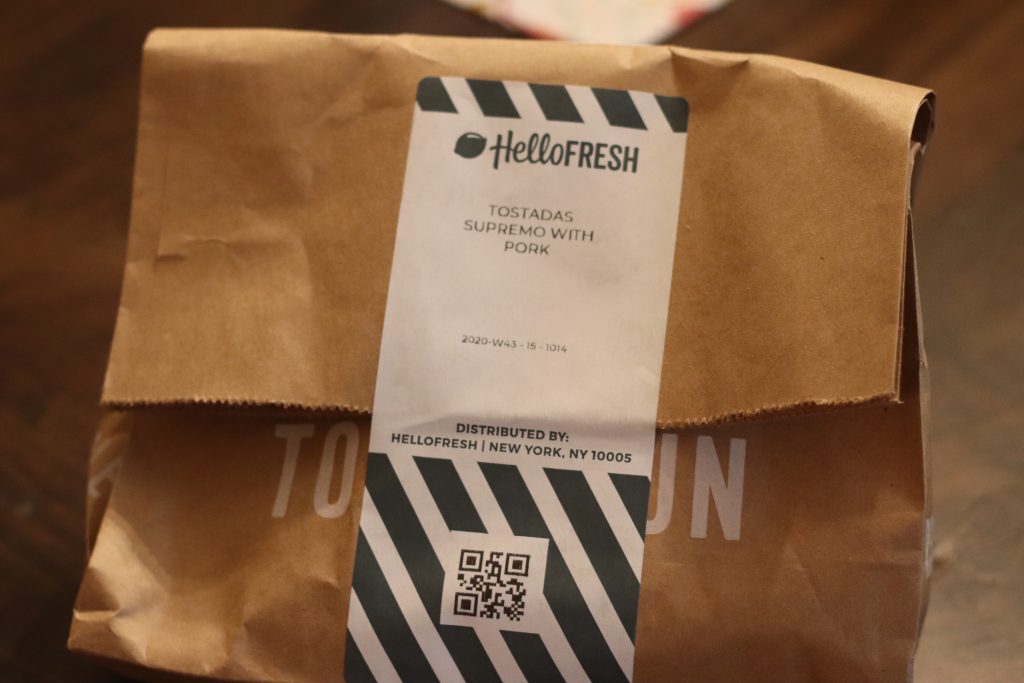 Can meal kits like Hello Fresh be a good option for Bariatric patients?
Testing meal kits is a little fun

For years I have been asked what meal kit might be a good fit for bariatric patients. I would review the websites the best I could but it was always hard to truly tell if something would be worth the investment for a post-op. I will review a few companies and to start, will cover Hello Fresh.
Truth be told, it is a super fun project to order meal kits and find out if it could work! First up for a review is Hello Fresh.
Hello Fresh Website Ease and Pricing

The website itself is quite user friendly. I was able to follow the prompts easily.
I particularly appreciated the ability to view the choices before putting in card information. Other sites have you sign up before you have seen the selections.
They also allow you to cancel immediately after your order. If you are like me and just want to try a box but not ready for a full subscription, this is a nice reassurance you won't get charged again. (Other sites make you wait for a certain date and it's easy to get charged for the next box.)
For pricing, there are always promotional deals going on! I have an extension for my browser that searched for coupon codes and was able to get my total to $15.93 for three meals for two people.
Ordering

The first step in the process was to select my preference from these options: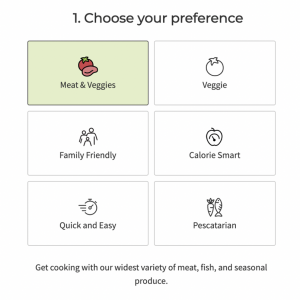 The downside for bariatric purposes…there is not a low carb option. This means the meals will come with buns, potatoes and pasta.
If you are cooking for a family that will eat bread, pasta or potato items and you are okay with skipping them or making an extra vegetable on the side, it could work. If you are cooking for one, or for others who want to avoid starchy foods, I wouldn't recommend.
The website does have some add on items if you wanted to add more meat to your order. I noticed most meat items ran $4.99 for 10 ounces which is likely higher than your local grocery store.
The nutrition information is a little tricky to find on the website. When you are viewing recipes click on 'view full recipe' and scroll down to a bit for a nutrition label.
If a recipe has a starchy item you are going to skip (potatoes for example) it is safe to assume the carbs will come down quite a bit. If it has a high fat content, you would ideally want a different meat option (can you change pork for chicken?) Some meal kit companies will give you the chance to swap out the meat. I don't believe I saw this option on Hello Fresh but may have missed it.
Cooking Experience
Of course it is fun to have your meal in a little bag with all these prepackaged ingredients. Meal kits are so fun!!!
This particular recipe that I photographed was for "Tostadas Supremo with Pork."
This recipe was particularly bariatric un-friendly :) Ground pork is a higher fat meat and it would be ideal to skip the tortilla therefore it would be a bowl of ground pork! Tasty but not ideal.
The recipe cards included are very easy to follow with a photo for each step. It does not include any nutrition information on the card which would be quite helpful.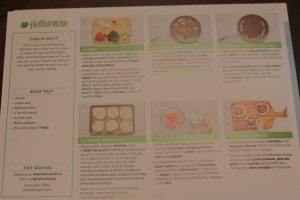 Other recipes in my box included:
Steakhouse Pork Chops with Creamy Shallot Pan Sauce and Lemony Green Beans
Meatloaf with Peppercorn Sauce
Overall review and rating of Hello Fresh for Bariatric Patients

Nutrition aside I found the experience to be great! The website, the packaging, the instructions. It was great to have all the thinking taken out of the equation.
Nutritionally, however, I would not recommend these particular meals for bariatric surgery patients. They all include a starch of some kind and use quite a bit of high fat ingredients. Most every step uses oil or the sauces they include are creamy.
If someone wanted to try it, I would look for the recipes that seem most focused on a protein and look for options that do not include a sauce. Substitute for a lean protein if available. I would skip or greatly reduce the oil and skip the starchy ingredients.
After all those changes and skimping, it does not seem worth the price to me personally. Feel free to try it and see what you can make work with it!
Would you like to see another Meal Kit company reviewed? Leave a comment and let me know!
I have also tried Home Chef and will be sharing remarks on them next :) Sign up for the email list to stay informed!