Ninja Foodi Smart XL Grill
How this indoor grill, air fryer, all-in-one machine can make a post-op bariatric life easier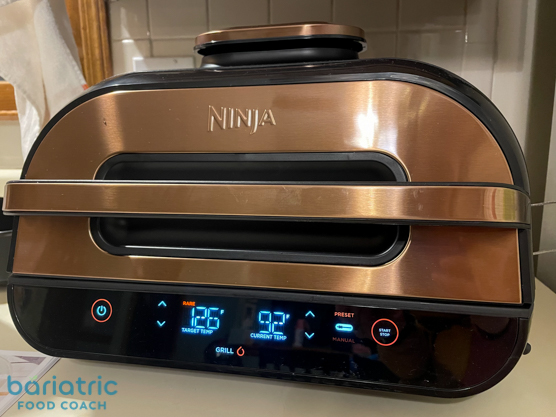 What can the Ninja® Foodi Indoor Grill do?
The photo above is my newest addition to my kitchen appliance family.
The Ninja® Foodi Smart XL Grill has a touch screen with functions for:
Grill
Air Crisp
Bake
Roast
Dehydrate
Broil
That is quite the list. Personally, I bought it for the grill and air crisp functions and replaced my air fryer with the Foodi grill.
I keep wanting to try the dehydrate option (green beans is on my mind) but I have not yet. I will update this post when I do!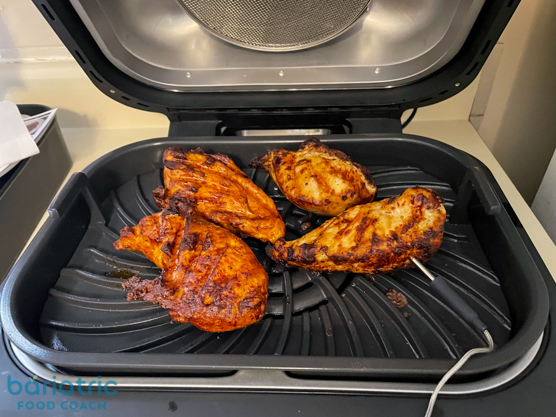 Let's talk about the size of this Ninja Indoor Grill
One of my hang ups about the appliance is that it is bulky and heavy. This means I have high standards for how much it will improve my life.
I prefer to keep my countertops clear so while I could leave it out, mentally I really don't like the clutter feeling. By getting rid of my air fryer and clearing space in my cabinets, I was able to store it.
This particular model is the Smart XL Grill and the capacity is 9″ x 12″ grill grate fits 6 steaks or 24 hot dogs, 4-qt crisper basket fits 2lbs of fries, 4-qt cooking pot fits a 3lb roast.
There is one model slightly smaller and one model slightly bigger. The Ninja website lists the comparisons.
By the way, this is not a sponsored post. I am sharing personal experience and how it could benefit weight loss surgery patients. Some links are affiliate.
How the Ninja® Foodi Grill can help the bariatric lifestyle
Like I mentioned above, my bar was high for this machine to be awesome. It is too heavy and bulky to only be okay!
The news is good. I have really loved how easy the experience is to get a really tasty protein on the table with hardly any work on my part.
So far I have used the grill function the most.
I have grilled chicken breast, pork tenderloin, steak and burgers.
My local grocery store has an awesome selection of marinated meats. I have been adding some to my order and when I feel really pinched for time to get dinner together, I put the marinated meat on the Ninja® grill.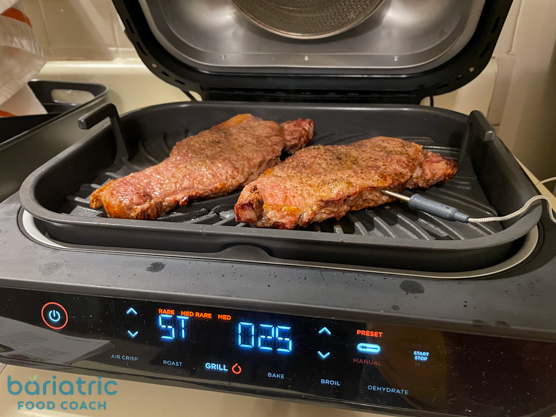 The process is so smooth.
Use the touch screen to turn it on, select the cooking method you want, then the meat you want to cook and if you want to use the thermometer (which I always do).
I LOVE that the thermometer is included in the machine!
Once I have GRILL selected, the thermometer in and the meat selected, it preheats.
When it's ready for you to put the food in, it says "ADD FOOD."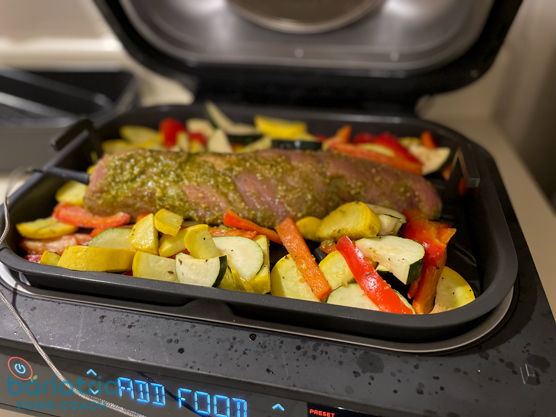 So that's what you do.
Then you close the lid and go about your merry way.
It beeps at you when the food is done. You lift the lid and it starts counting down 5 minutes – the recommended rest time.
When 5 minutes is up, you take you food and that's that!
Oh but you can also add veggies and have it all done at once!
How is the food?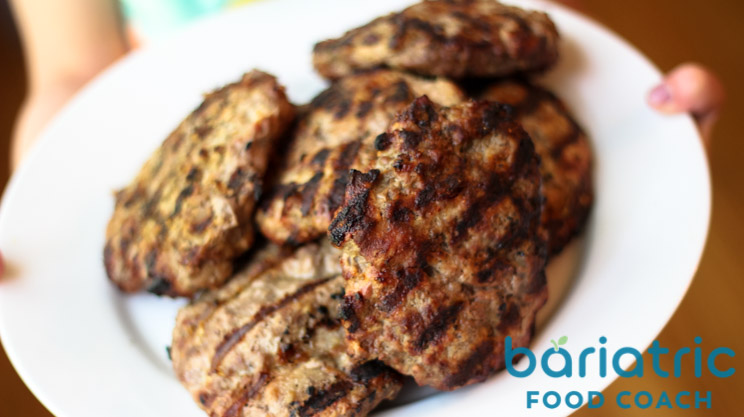 It's awesome.
The moisture is really good. I have not been disappointed with dry meat.
Now, I will say. If you are a post-op patient and you find a lot of meats to be dry, look to your bite sizes. I know it sounds strange but when food seems dry or you get full too fast or it feels stuck in your chest, it's often a sign of the amount of dense protein going into your pouch.
I recommend bites the size of a black bean.
I digress though! The grilled meats using the indoor grill have been right on. There is no smoke in my house. Everything is being cooked with a closed lid. It beeps when it needs me to do something.
This is a really hands off machine!
Click here to view this product on Amazon. 
Some recipes that would work well on the Ninja® Foodi Smart XL