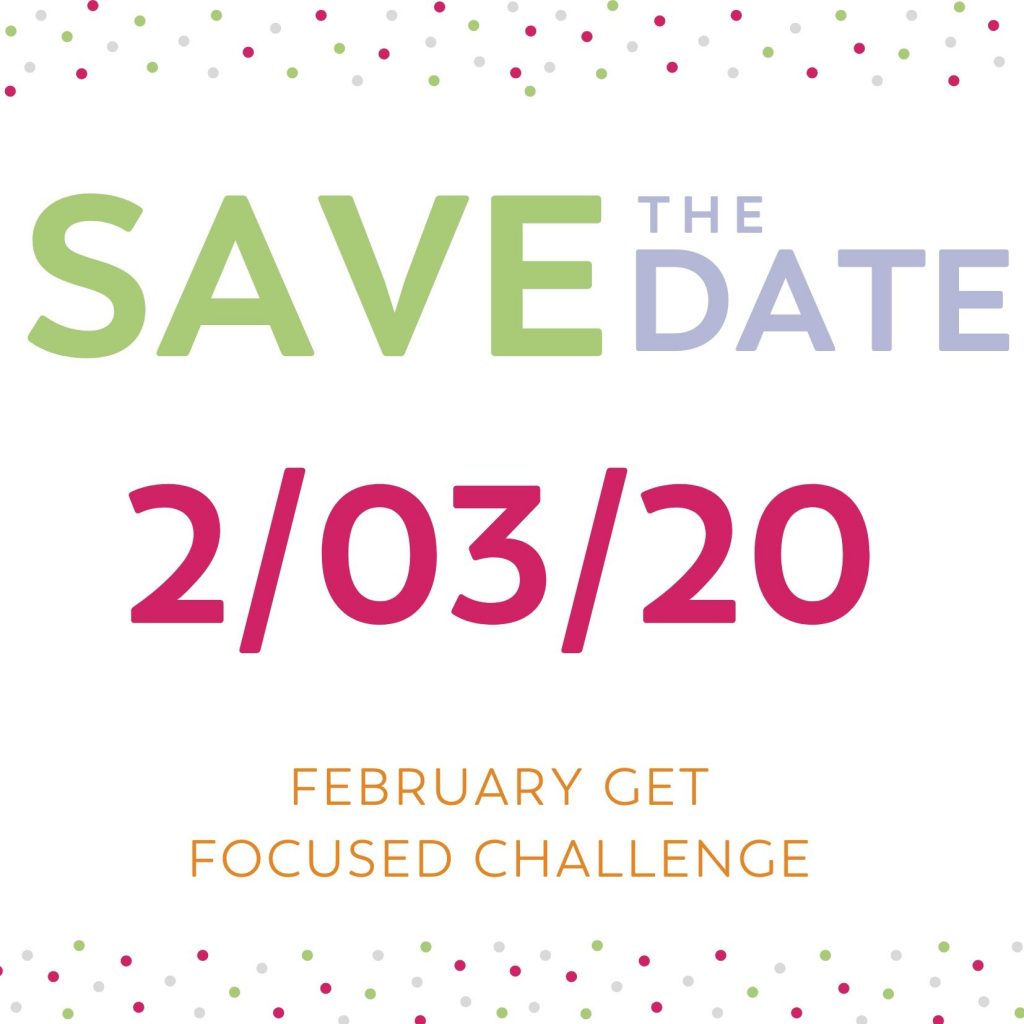 Get Focused Challenge Starts February 3rd
Watch the video to find out a new twist to our upcoming challenge
What to do next
If you are already a member, start thinking about your food related goal! You have nothing else to do except watch for the theme announcement and the enrollment link on January 27th.
If you are not a member, come join us!
What exactly is the challenge?
Click here for a video highlighting what the challenge is and who it is for.
Video Transcript:
The date has been set! Our next Get Focused Challenge will begin on February 3rd! This is a Monday and the challenge will run for four weeks.
Now this time around I have a new twist. This is my eighth Get Focused Challenge. Every time I run a challenge, I send a survey, I listen, I learn and I work to improve what it offers. Something I have noticed with every challenge is that excitement is BIG in the first week. Things are still trucking along in the second week but in weeks three and four it starts to become a little bit like crickets. Is anyone still out there? Are we bored now?
As I've scratched my head to think about how to help in the third and fourth weeks, I've come up with a new twist for this February 2020 Challenge.
For the first two weeks, you will get a daily email from me. It will often be a video with an encouraging word, suggestions, tips, a snapshot into how I am battling through a busy day and practicing what I preach. But then, in week three I will be essentially turning off my microphone and turning YOURS on. Week three will be member week. I want to hear from you!
I want you to send ME videos and emails and pictures. I will be putting all the content that members send to me together and sharing it with everyone on the challenge. It's a time to turn the camera on you and see how you can do it with a little less of me. Then in week four we will bring it all together and do a mix of member and me with notes on what is working, what is not working and how we will transition off the challenge and stick with it in the weeks to come.
Some logistics of the challenge: Enrollment opens on January 27th and closes on February 2nd. If you are currently a member you will get an email with the link to fill out a short form to join the challenge. You will immediately get a welcome email which will also include a link to join an accountability group if you would like one. If you are not a member, you will get a reminder email to become a member to get the link to enroll.
The challenge page will go live on January 27th which will include a library of videos answering frequently asked questions, it will also have the Goal Tracker Sheet which is the main item of the challenge. To set your goals! The challenge will officially being February 3rd which means this is the day you are starting on your goal. You want to check off your boxes!
We will have our first live call on Sunday, February 9th at 6 and 8pm central where I will coach based on our theme and answer live questions.
So, stay tuned, next time you hear from me regarding the challenge will be the theme announcement!