Bariatric Lunch Ideas and Recipes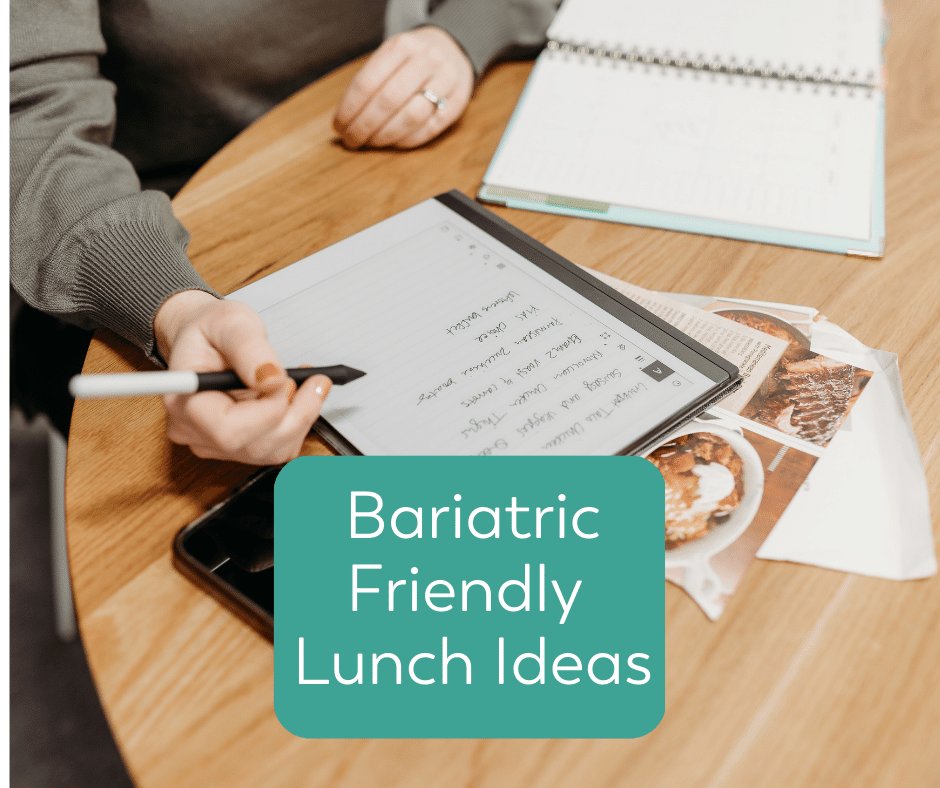 Quick, easy, and protein-packed lunch ideas and recipes for bariatric patients
Updated March 2023
Co-Written by Steph Wagner MS RD and Jackie Roth MS RD
Jackie is a Bariatric Dietitian and Program Development Specialist at Total Weight Loss Center in North Kansas City. She is also my friend! Check out her full bio at the end of the post! 
What to expect in this brain dump of bariatric lunch ideas
Cold Protein Salads
Deli Meat and Low-Carb Wrap Options
Salad Jars, Kits, and Bento Boxes
Bariatric Charcuterie Board
Stoups and Chilis
Pre-Cooked Meats
Leftovers
Lunches out
Plus my free guide to meals in the freezer section!

Cold protein salads make a great lunch after bariatric surgery
What do we mean by cold protein?
Just like it sounds this is the chicken salad, tuna salad, salmon salad, or shrimp salad recipe that you can make in large batches and eat cold for lunch later!
Why do we love them?
Let us count the ways! In short, we love the variety, the ability to make in bulk and then batch, and the no-reheat needed bonus.
For one, there is an incredible amount of variety available when it comes to flavor changes. Take chicken salad for example. You can make a classic chicken salad of course, or give it Mexican flavors, Greek, Italian, Asian, and even barbecue.
Click on any image and the recipe will open on a new page. 
That means you can buy a rotisserie chicken, cut off the meat, divide it into a few different bowls, and make very different chicken salads to keep you from getting tired.
Not only can you get variety in the flavor, but you can also get variety in the protein! You can do a shrimp ceviche (aka a shrimp salad and use Mexican flavors) and change up the pace if you are tired of chicken!
You can also change it up with a Tuna salad and stuff a tomato or eat it on cucumber slices. It is worth noting that tuna is not as filling as a chicken salad that is made with cooked chicken breast – texture matters for hunger control after surgery! (Watch this lesson in the Hunger in Bariatric Surgery members course)
Click on any image and the recipe will open on a new page. 
These cold protein salads are very easy to batch. Translation, you can make a large bowl of it once and eat it for lunches for the week. You can also batch it out into different flavors.
If you are worried you'll be tired of a classic chicken salad by Wednesday, you can spit up your cooked chicken and do an Asian version to trade off with.
Deli Meat Wraps for quick backup lunch after bariatric surgery
Why do we love them?
We both mentioned wraps on our list for quick lunch but as a runner-up to using leftovers. (More on leftovers later but we do love them for lunches.)
There are several new options these days for lower-carb wraps at the grocery store. You might look for Egg White Wraps when you shop or Cheese Wraps (Crystal Farms® makes a few choices).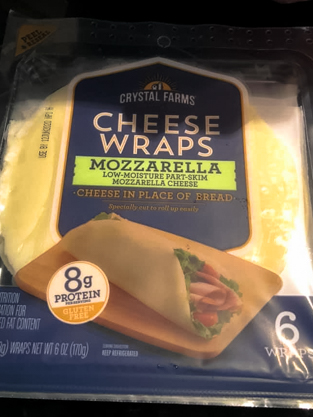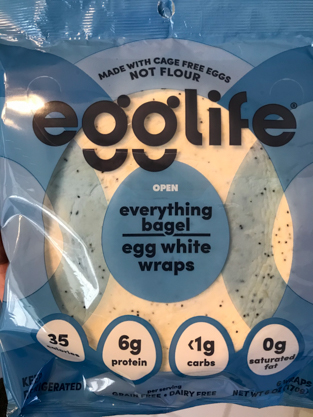 These are great ways to get flavor and protein with fewer carbohydrates than a tortilla. Some patients will opt for deli meat and cheese only (avoiding lettuce for discomfort reasons). I (Steph) tend to avoid tortillas but Jackie is okay with a whole wheat tortilla – which goes to show you even bariatric dietitians have a different take on things!
Click on any image and the recipe will open on a new page. 
Pair your wrap with some cottage cheese with Everything but the Bagel seasoning for some extra filling protein and flavor change!
Salad Jars, kits, and bento boxes for bariatric lunch ideas
Why do we love them?
For one they are fun and pretty. Salad is often thought of as a lunch idea! For some patients, a bagged salad kit topped with protein can work (recipe suggestion from Jackie below). For others, salad can be a struggle so the flexibility of filling a mason jar or bento box with veggies that best fit you is a bonus.
For example, the taco salad in a jar could easily be changed up a bit to avoid the spinach and replace with diced bell pepper. The majority of the flavor is in the taco meat anyway! Chop and disperse your veggies and toppings into jars while you brown your meat. Then divide your meat into how many jars and take them as you go.
Click on any image and the recipe will open on a new page. 
Frozen "TV Dinner" Meals
Does anyone else still call these TV dinners?
I wrote a frozen meals guide and realized how many people I had confused when they thought it would be a guide for meals they would make and fill their freezer with. Ever since I have tried to think of what to call frozen meals. I mean freezer meals? I mean…you know…TV dinners.
Why do we love them?
They are a great backup plan that you can keep without worrying it will spoil before you get to it. Depending on your work environment, you might be able to label them and keep them in the freezer at work.
They have a lot more options on the market than they used to and adding extra pre-cooked grilled chicken can up the protein to make them more filling. This trick might also make it into two lunches depending on the person!
Bariatric Charcuterie Board
This suggestion was from a Bariatric Food Coach member and I loved it.
I often make a 'charcuterie board' for my kids when we are short on time and they are hungry NOW. Why didn't I think of putting a twist on it for a bariatric patient?
Many of these things you may already but doing but when you put them together on a fun board, all of a sudden it seems more like a satisfying meal instead of a rushed snack.
Suggestions include boiled eggs or deviled eggs, low-fat cheese, celery, carrots, bell pepper strips, ham or turkey, turkey pepperoni, and/or a few almonds or walnuts.
"Stoups" and chilis for batch-cooking lunch
Why do we love them?
I believe it was Rachael Ray who coined the phrase "stoup" which means it's more of a stew consistency than a soup. I love making stoups as a bariatric-friendly meal because they are thick and hearty with lean protein but not liquid based which would empty the post-op pouch quicker!
While this lunch approach might be more common in the Fall and Winter, they are always helpful meals. Make a large pot of soup or chili and freeze them in a silicone muffin pan.
This makes smaller individual chunks of chili or stoup which means you can grab one chunk to reheat when you need it. You can also put your chunk in a food container and take it to work. It will thaw by lunchtime when you can just heat it quickly!
Here is a great video on the muffin pan trick with Turkey Italian Chili.
Also worth raving about is the Pampered Chef® freezer bowl set. I love these because they are larger than the muffin pan wells and I can put different food in each one. Sometimes I have leftovers from dinner and decide to freeze them. That means I have six different frozen meals in the cups instead of the muffin pan that I am more likely to use for one recipe.
Take one of the Pampered Chef® cups out to take for lunch! My husband loves it too. When he doesn't find what he wants to pack for lunch in the fridge he grabs one of these on his way out the door for work.
Below are several stoup and chili recipes! Those with a lock icon are reserved for members of Bariatric Food Coach.
Click on any image and the recipe will open on a new page. 
Pre-cooked meats for fast lunches
Why do we love them?
Why wouldn't we? These are the items at the grocery store that require zero work. The best of the best is the Rotisserie Chicken.
I (Steph) have come to learn I am a rotisserie chicken snob and now stick to Costco® rotisserie chicken. Not only that but 99% of the time purchase one when I am there. The cost per quality is awesome! I serve it with canned green beans or a bagged salad or toss it into a quick chicken salad with Greek yogurt, light mayo, diced celery, and garlic powder.
I also really love it for this Chicken Tortilla Stoup (yes, another Stoup!)
Aside from the awesome Rotisserie Chicken, there are several pre-cooked portions of meat on the market including Chicken Sausage and Turkey Sausage.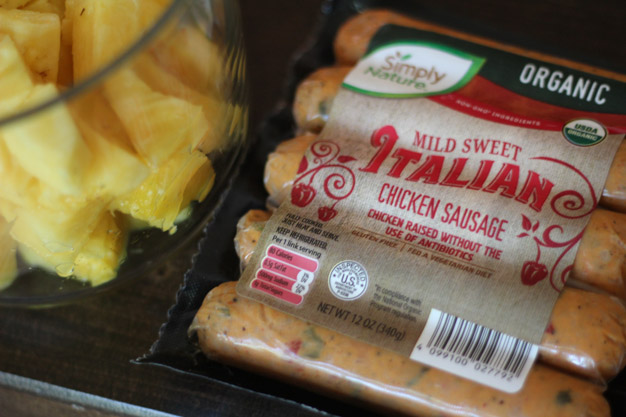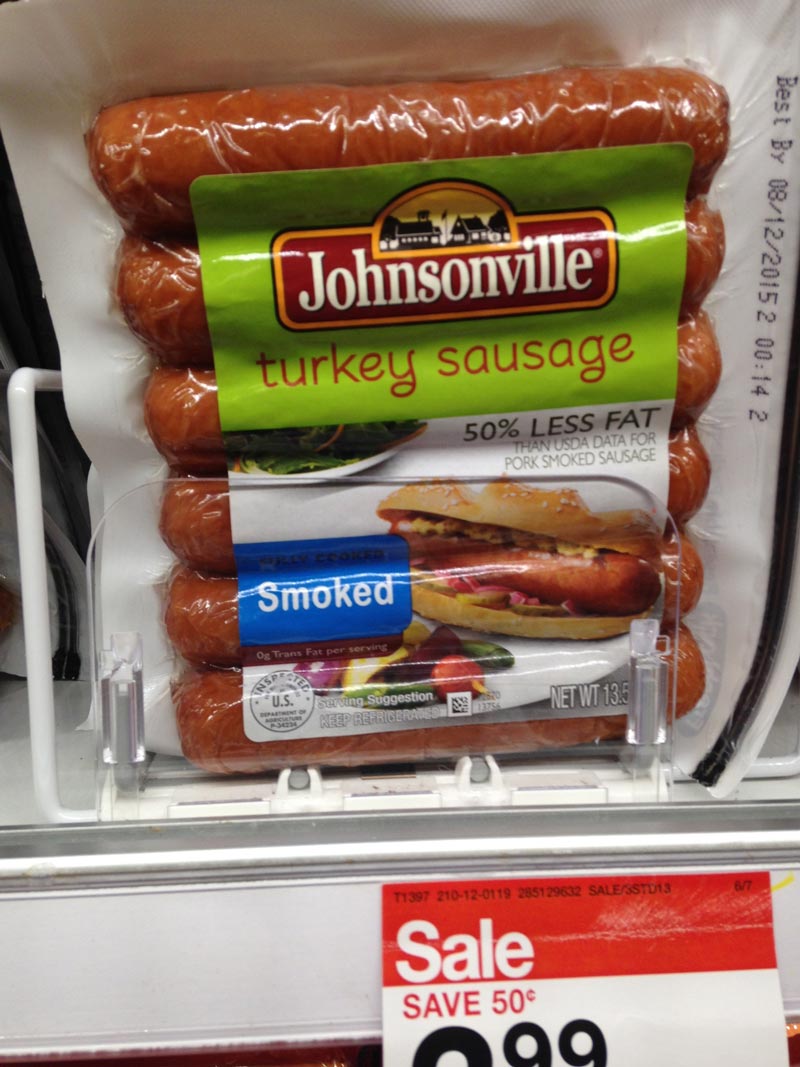 Speaking of Costco, I have a shopping guide for members of Bariatric Food Coach that focuses on Costco!
Leftovers for lunch
Yes, I said it. Leftovers.
Notice I did not start with leftovers because chances are if you were looking on Pinterest for bariatric lunch ideas you were going to roll your eyes if someone said "leftovers."
So, I did not start with it but I am for sure going to say it!
Some of you just cannot handle leftovers and I hear you. Feel free to stick to all the other ideas we have suggested. For others of you, maybe changing up your dinner plans will help you with lunch ideas!
Leftovers mean less food prep because you already made it. They also mean fewer dishes because you already made them. They take just minutes to warm up and they don't require you to pick up lunch somewhere.
Maybe you live in a household where you have to fight for leftovers! This might be another reason to freeze them. In my family, the food scavengers are less likely to go for frozen leftovers!
Below are recipes that make awesome lunch leftovers.
Click on any image and the recipe will open on a new page. 
Lunches when you need to eat out
Members have access to my dining-out guide! This is a great resource to keep on hand for those in pinch moments! Many of our members recommend grilled nuggets from Chick-Fil-A…unless it's a Sunday!
Members have access to my dining-out guide after bariatric surgery for a list of common restaurants and options for post-op patients. Members can access that here.
We hope this helps get your wheels turning with new ideas for great lunches that fill you up, keep you full, and keep your energy up!
Steph & Jackie